Finding activities that allow you to de-stress is important for self-care. While self-care looks different for everyone, there are commonalities for everyone that helps to reduce stress. Some people need the thrill of trying new things, while others need to find different ways to spend time alone at home to recharge. However #SelfCare looks for you, we think you'll find some great ideas below that will help you de-stress after the busy holiday season!
Practice meditation to calm your mind
After the holidays have wound down, self-care is crucial. Everyone has different methods that work for them to recharge and avoid burnout. It's important to look after your own needs the same way you would for a family member or a close friend. Daily meditation practices will help you calm your mind and stress less.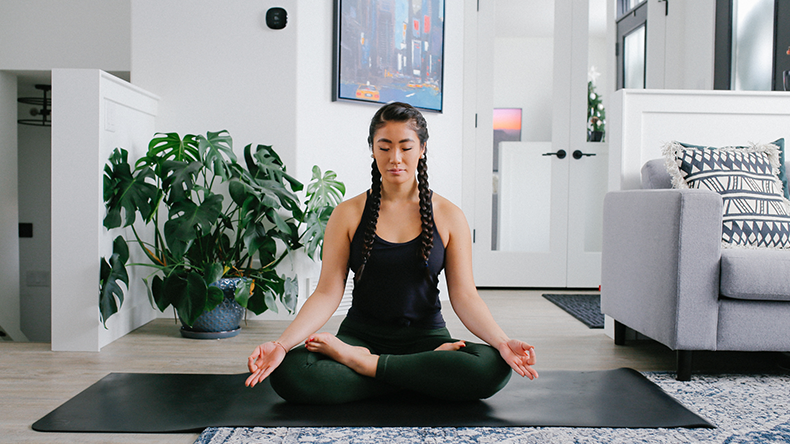 There are countless meditation apps available on both Android and iOS, like Headspace and Calm, that help you to focus and improve decision-making while diminishing traits like stress and anxiety. Using meditation apps help you pay attention to your physical needs and senses, all while improving sleep quality. There are tons of benefits to meditation, and adding it to your daily routine will greatly benefit your mental and emotional health.
Practice gratitude to improve your self-esteem and mental strength

If you haven't practiced gratitude as part of your daily life, 2020 is the year to do it! Keep track of the things that make you happy and of what you're thankful for. This Gratitude app prompts you to write down the things you're grateful for. After doing it for 3 weeks straight your optimism will increase, and your emotional health will greatly improve.
There are many good reasons to practice gratitude, and this list from Psychology Today explains how it will positively contribute to your health.
Meal-prep with creative new recipes
The best way to save money and eat healthily is to meal-prep! Spend your Sunday afternoons finding new recipes on your iPad, and get to cooking. Make it a goal to cook recipes that you've never tried before and really get your creative juices flowing. Whether you're finding recipes to bring to the office with you, or you're getting ahead with suppers so you don't need to stress about them with your busy schedule, there are amazing recipes for every situation.
If you're often finding yourself stressed, then do your best to avoid sugar, caffeine, and the items on this list, and instead opt for leafy greens and nutrient-dense foods.
From taco lettuce wraps to spicy Asian zucchini noodles to balsamic roasted vegetable and quinoa salads, your mind, belly, and wallet will be thanking you for spending Sundays in the kitchen. Gone are the days of buying lunch every day… meal-prep is really budget-friendly, leaving you more cash to put towards a vacation or another big-ticket item to enjoy.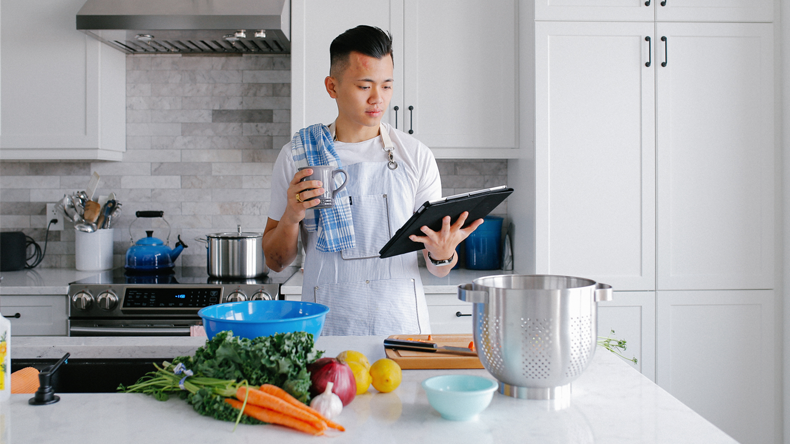 If you like variety with your lunches and having the same thing consecutively for a few days scares you, then these eco-friendly bento lunch boxes are a perfect choice. They're made from a sustainable fibre and are BPA free. Plus, you can stick them in the microwave, dishwasher, and the freezer. Pair it with a set of bamboo cutlery, and you have a totally green meal set!
Do a random act of kindness
Sometimes the best way to feel good is to simply do something nice for someone else. We have this list of ways to give back to others this winter, chock full of great ideas that we think you should give a try this winter.
Another great way to give back is to perform a random act of kindness for someone. The SaskTel Pioneers are no strangers to performing random acts of kindness and have been known to get out into the community to spread the warmth.
Have more dance parties
Sometimes, the best mood-booster is a good old fashioned dance party in your living room while you're doing household chores. Turn on Stingray Music on maxTV, grab a partner (or don't!) and pump it up! Having a dance party is fun and a great way to get exercise, release endorphins, and put a smile on your face. Not only that, but it's a great way to boost your confidence and reduce stress!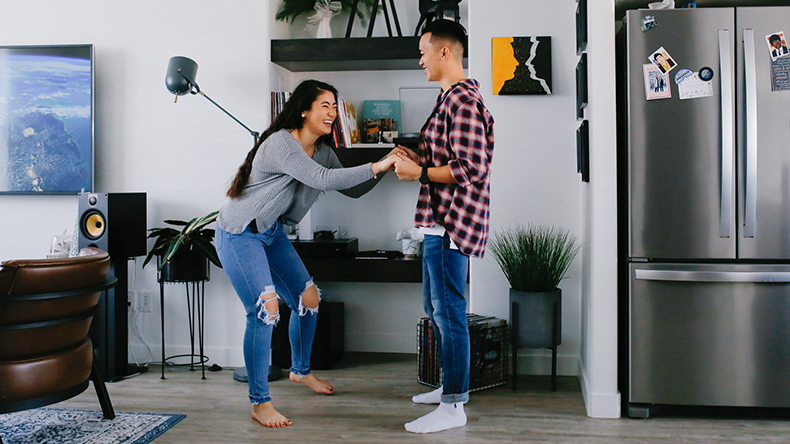 If dancing isn't your kind of party, there are lots of apps that you can download to your SaskTel smartphone device that you can do from the comfort of your own home.
Set the ambiance in your home
Coming home to a safe, cozy home where the lights are slightly dimmed and the temperature is just right is a nice way to get through the short days of winter… so set your house up with WI-FI plugs that you can turn on and off through the smartHOME App, control your thermostat, and even receive alerts when a door or window is left unlocked. Not only will this help you feel safer, but you can also create a beautiful ambiance in your home just before you arrive!
From turning on your Himalayan salt lamp to getting your aromatherapy diffuser going to making sure that the front door's light is turned on, the smartHOME App will make you feel extra comfortable going home in the evening.
Drive somewhere new with a friend that makes you happy
Spend a Saturday grabbing a friend and hitting the road to go somewhere you've never been before. Sometimes the best way to de-stress is to spend time with people who positively influence your life, and what better way to do that than to sit in a car one-on-one with them? This will give both of you the opportunity to catch up on each other's lives while discovering somewhere new.
Whether there's a small-town restaurant you've been meaning to try, or you've been wanting a photo in front of the Eiffel Tower replica in Montmartre, get in your car on a random weekend and hit up a bunch of places you've never been. With SaskTel's reliable networks, you'll have service everywhere, so don't forget to post your trip to Instagram using #TodayIsTheDaySK. Getting on the road to experience new things with a great friend will be the refreshment you need on a winter weekend. Before hitting the road, read these 13 winter driving tips to ensure you're prepared for anything down the road.
What are some ways you plan on taking care of yourself and de-stressing in 2020? We would love to know! Leave us a comment below.