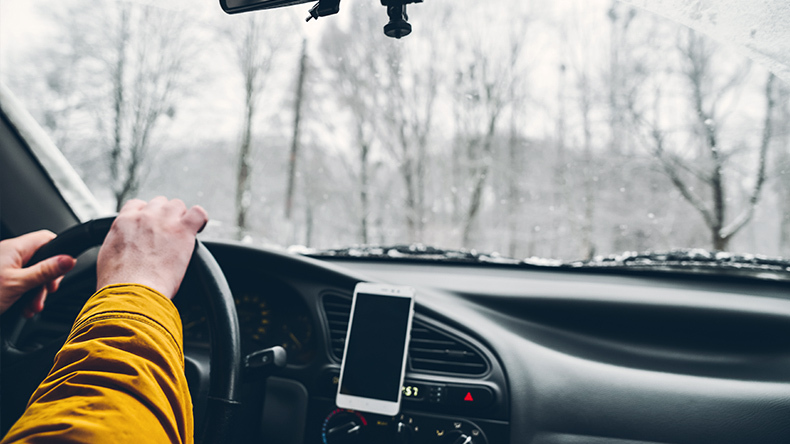 CHARGE UP
Always charge your phone before you drive anywhere. You can pre-charge your phone with one of our phone charger stands or pads. If your battery's dying and you need to get on the road, bring a charger cable to boost your battery while you drive, or use a handy in-car wireless charger mount. Remember: if you're in an emergency, it's free to call 911 but don't talk and drive. Pull over to a safe spot or have a passenger make the call for you.
And if, in the future, you're planning a longer road trip with your family, be sure to get our 6-hour data pass to keep your kids occupied with their tablets and phones. You'll find our network coverage and reliability are second to none—SaskTel owns and operates Saskatchewan's largest LTE network, which covers 99% of Saskatchewan's population.
LOAD UP
Most of us can relate to our vehicles failing us a time or two. Whether it's a flat tire or a dead battery, we recommend always being prepared—especially in these cold Saskatchewan winters. Pack two winter emergency survival kits...one for the trunk and one for inside your car.
Your inside-the-car kit contains:
Hand sanitizer
Extra face masks
Phone charger cable
Compass
Flashlight & batteries
Road maps
Ice scraper & brush
First Aid Kit
Blanket ("survival" blankets are the best)
Matches and a candle in a deep can (for warming hands, heating a drink, or using as an emergency light)
Toque
Your trunk kit contains:
Bag of sand, salt, or kitty litter
Traction mats
Shovel
Tow chain
Roll of paper towels
Brightly coloured cloth
Road flares or emergency lights
Fuel line de-icer (methanol)
Extra windproof clothes, toques, and boots
Non-perishable food & snacks
Booster cables
Fire extinguisher
Windshield washer fluid
Antifreeze
Reflective vest
You can assemble your own kits or get a vehicle emergency kit from St. John Ambulance.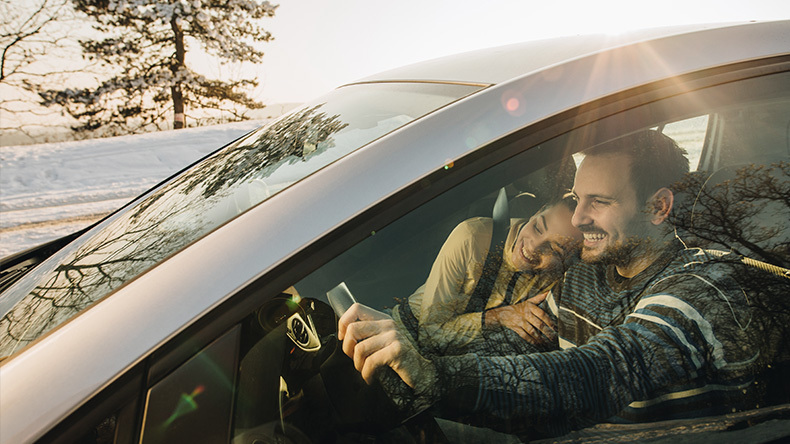 WARM UP
Whether you're driving near or far, always wear warm clothes and footwear that don't restrict your movements. Keep your engine warm, too. When the temperature falls below -15C, it's important to plug in your block heater overnight. Just be sure you don't drive off while it's still plugged in! Get the magnetic VoltSafe electrical plug—it was invented by two Saskatchewan students. The VoltSafe has a magnetic plug, so if you drive off while your block heater is still charging, the plug will safely uncouple.
RESPECT THE WEATHER
Follow your local weather forecasts (Weather Network, Gov't of Canada) and use a weather app like Accuweather or Weather Underground—and if you're a serious weather watcher, use a radar app like RadarScope ($9.99 USD). When you see a storm is brewing, do your best to stay off the roads. Use our powerful Wi-Fi network to keep in touch with your co-workers, clients, friends, and family.
WATCH THE ROADS AND PLAN YOUR ROUTE
To check out Saskatchewan highway conditions, go to hotline.gov.sk.ca/mobile. Use a navigation app to plan your trip before you go. You want to avoid side roads that don't get cleared off as fast. Stick to the main roads, don't speed, stay in the right lane, and avoid passing vehicles when the road conditions are bad or the visibility is poor.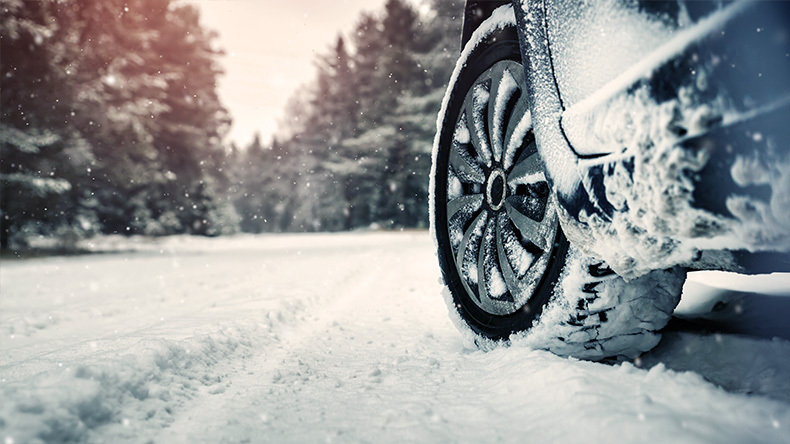 EYES UP
Never look at your phone when you're driving. Avoid the temptation to text your friends with your estimated arrival time. Instead, download OMW, an app that shares your location in real time. So your friends/family know exactly where you are, without you having to text them. You can also set your phone to 'Do not disturb' so your eyes stay on the road (and snow) ahead of you.
FILL IT UP
A full gas tank gives you peace of mind. It also helps reduce the moisture in your fuel system which can weigh down (and slow down) your car. Download the Saskatchewan-made app GasBuddy to find the best gas prices, nearest gas station, and everything else you need to fuel your trip.
SEE AND BE SEEN
Before you leave home, brush all the snow off your car, including your hood, windshield, windows, headlights, and taillights. Don't forget the roof… here's why you should always clear the snow off your roof.
TUNE UP
Get a mechanic to give you a winter tuneup ASAP. This means:
Checking/replacing fluid levels, windshield wipers, brakes, and headlights
Checking your exhaust, heating, and cooling systems
Cleaning your car battery posts
Replacing defective ignition wires, cracked distributor caps, and worn-out spark plugs
All-season tires lose their grip when the thermometer drops below 7°C. Get winter tires—they give you better traction and handling and they shorten your braking distance by 25%. Check your tire pressure—but not inside the warm auto shop. Tire pressure goes down when it's below zero, so check your tire pressure outside when the rubber is cold.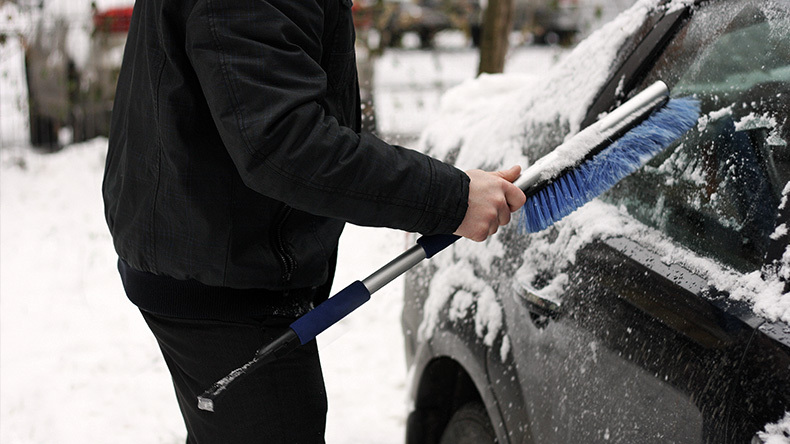 SLOW, SMART, & STEADY
Leave early to avoid traffic and the stress of speeding. Sure, in TV commercials, auto/tire companies like to show how well they handle slippery snow and ice as the vehicle zips to its destination. Nice to know, but those ads don't always show other vehicles or pedestrians. You're never 100% alone on SK roads, so your #1 mission is to slow down and avoid everything. If the right lane is clear of snow, stay in that lane—it's safer for everyone.
Never use cruise control in the wintertime. You can lose control of your vehicle and start hydroplaning and skidding. Before you enter a turn, brake slowly to reduce your speed. As you enter the turn, tap the gas pedal to carry you out of the turn.
It's tougher to stop and maneuver on prairie snow and ice. When you do have to brake on a slippery road, and you don't have anti-lock brakes (ABS), gently press the brake pedal but not so hard that your tires stop turning. Avoid slamming your foot on the brake pedal. If your vehicle does have ABS, don't pump the brakes. Just apply steady pressure and let the system do its job.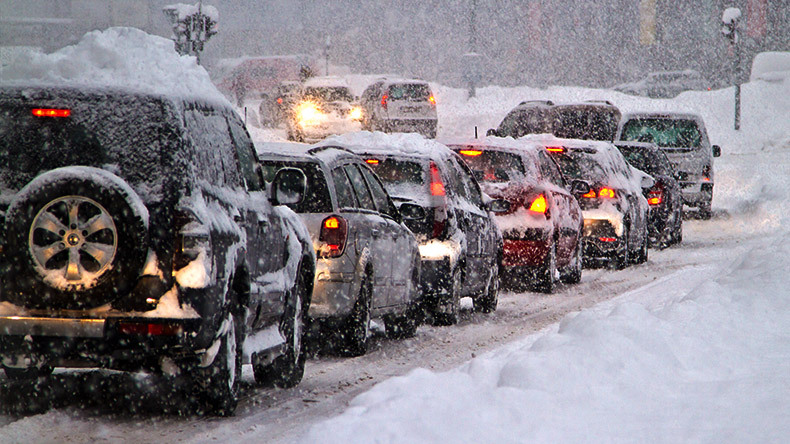 STEER INTO THE SKID
Driving slowly helps you avoid last-second panic braking if you come across an obstacle. You still may hit an icy, under-salted patch of road which can send your car into a skid.
Here's how to regain steering control:
Take your foot off the brake and ease off the gas
Shift into neutral (if you have an automatic transmission) or push down the clutch (stick shifts)
Steer gently in the direction of where you want to go
When the vehicle straightens out and your wheels grip the road again, put your car in gear again
Gently accelerate and drive at a safe speed
KEEP COOL IF YOU'RE STUCK IN A STORM OR SNOW BANK
If your car gets stuck in a storm, ditch, or snow bank, stay calm. Assuming it's viciously cold out, don't over-exert yourself by doing heavy lifting, shovelling, or bumper-pushing. Clean the snow out of your tailpipe so carbon monoxide doesn't flow back inside your car. If your car's off the road, stay inside until help comes.
You should also:
Phone for help and give them accurate location / directions. We've got you covered: SaskTel is part of Canada's largest mobile network.
Light the road flares and leave them around your car
Tie the brightly coloured cloth to your antenna or hang it out your rolled-up window to signal distress
To get fresh air, open a window slightly on the side away from the wind
Run your engine as little as possible
Use a survival candle for heat
Wear a toque. You can lose up to 60% of your body heat through your head.
Breathe deeply and rapidly move your arms and legs to keep the blood flowing
Don't go to sleep. Stay awake and watch for traffic or searchers.
ROADSIDE ASSISTANCE
Frequent drivers often join CAA Saskatchewan, as the annual membership includes roadside assistance and, if necessary, a free tow to a local service centre. Members can call for roadside assistance, 24/7, at 1-800-CAA-Help (1-800-222-4357).
Any Saskatchewan winter driving tips you swear by?
Share them with us on Facebook.
Sources: Canada Safety Council, Saskatchewan Safety Council, CAA Saskatchewan. Canadian Centre for Occupational Safety.
Revised Blog with updates from December 20, 2018