When we watch our favourite online personalities, it can sometimes feel like they're a world away. Afterall, they could be anywhere on the planet! So it's really amazing when we find Saskatchewan talent making waves online.
In the gaming world, Sarahmony is someone who has definitely been making her mark. As a dedicated Twitch streamer, Sarah uses the speed and reliable connectivity of SaskTel infiNET to make her marathon gaming streams possible—she usually goes for hours!
[Unfamiliar with Twitch? Here's a quick rundown]
Even though she sticks to a pretty rigorous streaming schedule on Twitch, Sarah is a fun-loving and free-spirited gal with plenty of zest for life. We spent the day in Regina together and despite it being an overcast and gloomy Fall day, Sarah lit up the room with her passion for gaming. We talked about what it's like being a female gamer, keeping up online friendships, balancing her busy schedule, and more. Take a look here:
The day started in downtown Regina at a local comic book shop. Sarah is well-versed in Spider-Man among many other fandoms. She's been an avid reader her entire life, and the Marvel Universe has always been a favourite. Plus, she loves the movies too. If she isn't gaming, she can always be found at the theatre watching the latest Marvel flick.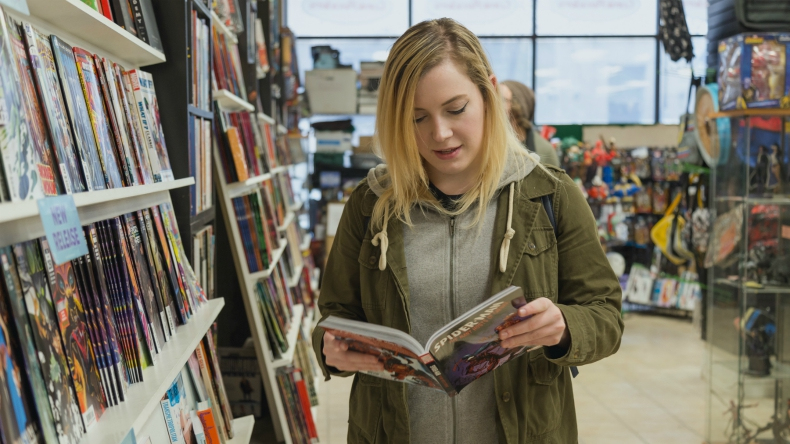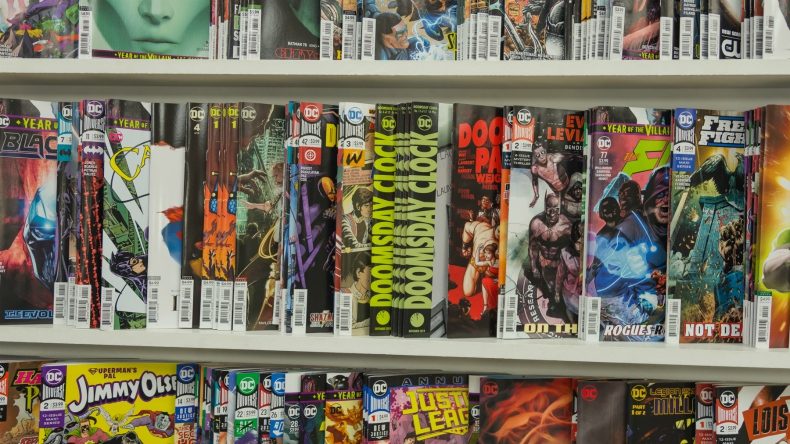 Next, a pit stop to fuel up on coffee and check in on social media. Part of how she's grown her following is through interacting with them on the daily. With followers from around the world, she's found it to be an invaluable gift getting to learn about so many other cultures and perspectives—all through a shared love of gaming.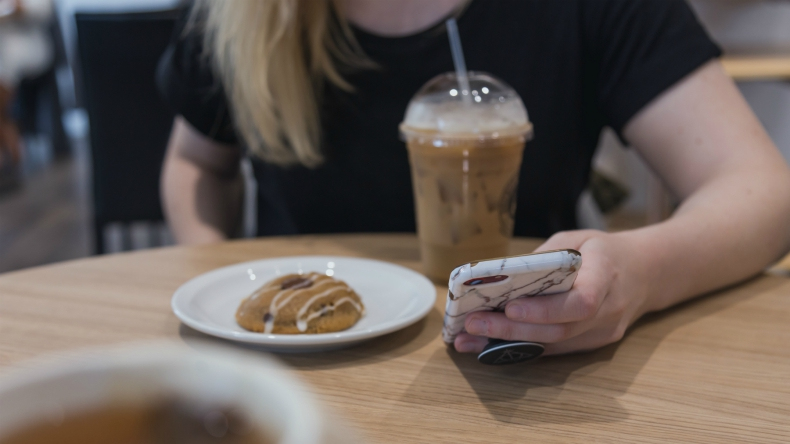 We then took a quick stroll down Scarth Street for some fresh air. Despite her packed schedule, Sarah makes time for the gym several times a week. She prioritizes going because she's found that it strengthens both her physical and mental health. Since training more regularly, she says her energy and health have improved significantly.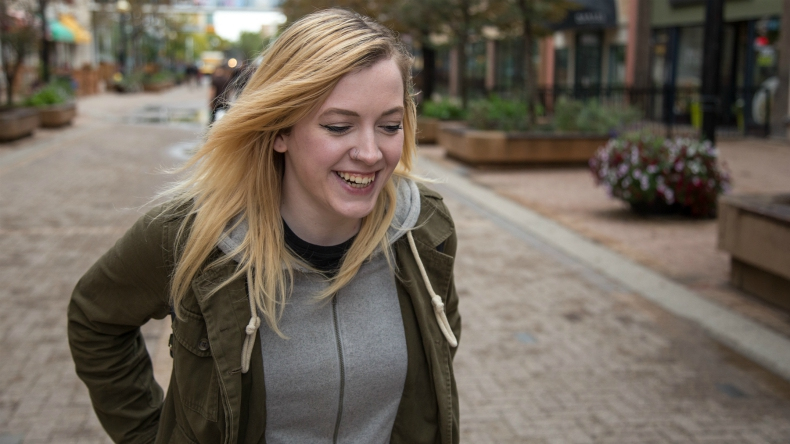 It's 4pm and almost time to start streaming. Here's Sarah stepping into her 'office' — essentially a room at home decked out with a state of the art gaming setup. With just an internet connection, she loves the fact that she can do what she loves from home while hanging out with people from all over the world. Some of her closest friendships are because of Twitch and she wouldn't have it any other way.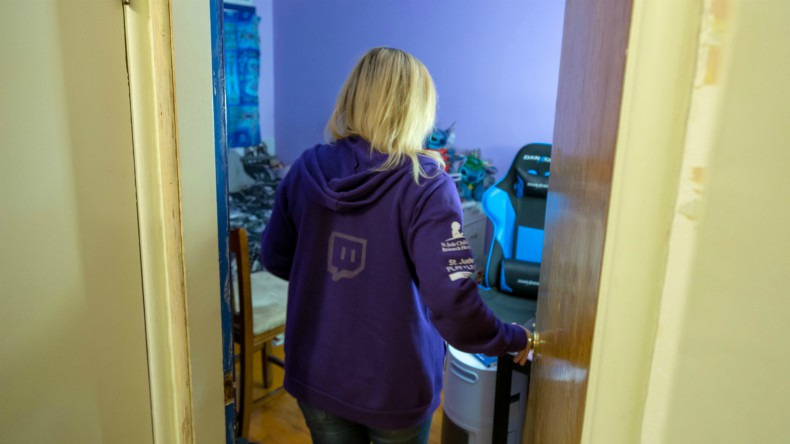 Stream preparations begin. Since she's becoming a known female gamer, Sarah's a member of the all-girl gaming squad Team Kitty. She says it's been difficult to manage the stigma surrounding female gamers, but it gets better every year and she now feels more accepted than ever before. Like other females on the platform, she's had to deal with her fair share of negativity. For example, people have been quick to accuse her of faking her streams—some still find it hard to believe female gamers can actually be 'good'. Sarah is hopeful these attitudes will fade over time.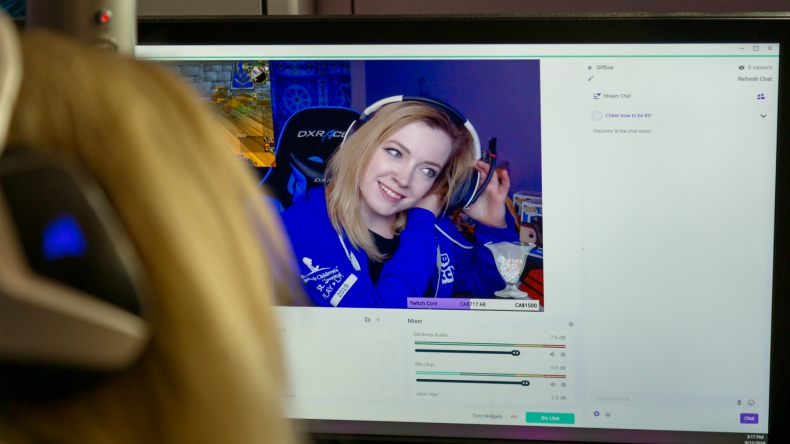 According to Sarah, a good red lipstick isn't an everyday thing, but always awesome. In a male-dominated environment, females' appearances can be a source of tireless debate, but Sarah rocks whatever look she wants and is comfortable in her own skin.
6pm strikes and it's go time. The stream begins and her audience makes their way into the chat. Today she's playing her long time favourite, World of Warcraft. Starting with a GameBoy when she was a child, Sarah's been playing video games for as long as she can remember. Now, for the next several hours she'll be gaming and entertaining thousands like a pro.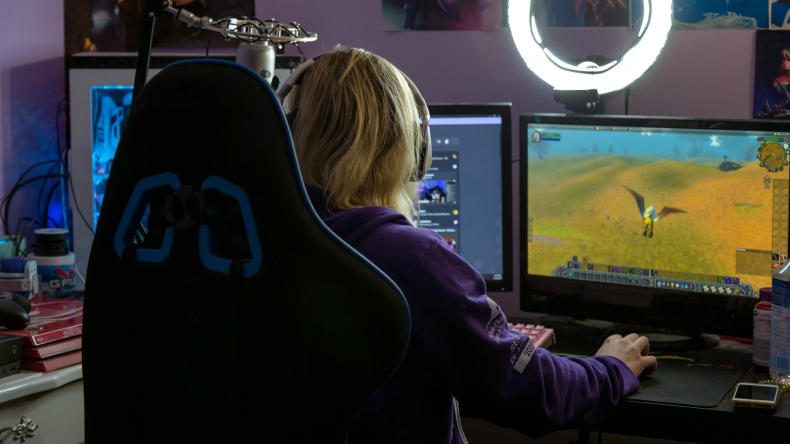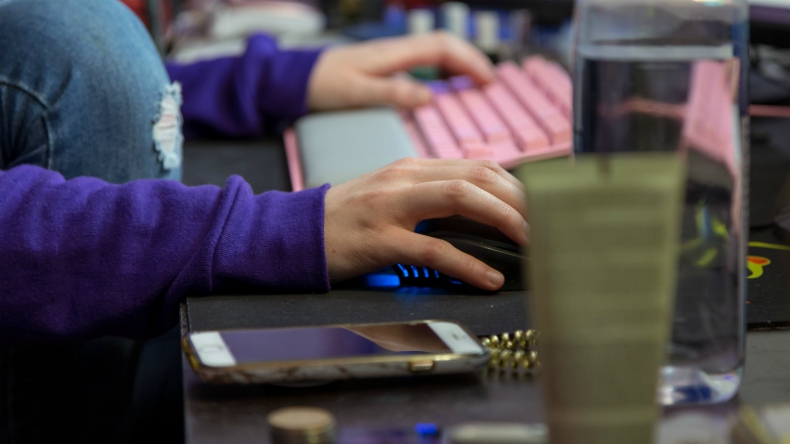 When asked if video games helped her through any tough times, she said that it's the friends she's made through Twitch that have helped her the most. They've experienced and grown so much together— from supporting each other in their personal lives, to lending a helping hand in gameplay. In fact, one of her most memorable gaming experiences was playing side by side with her friends in a raid to beat the final boss of World of Warcraft. It was an incredible moment she was happy to experience alongside them.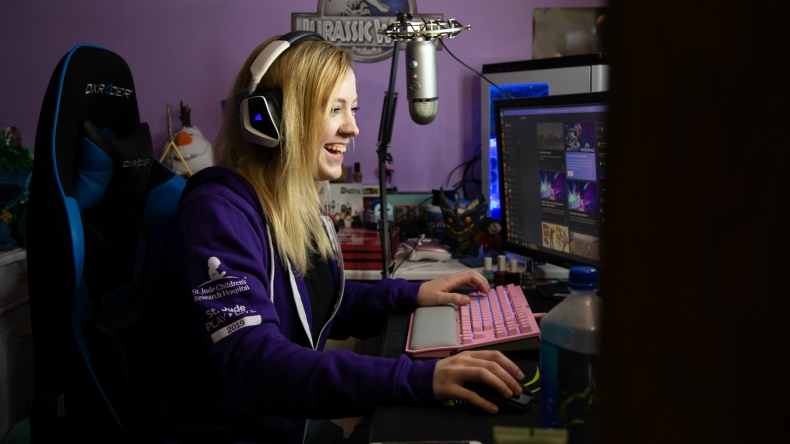 To end the day, we couldn't resist giving a quick nod to Harry Potter— she's read the books at least 50 times! Personally, she aligns the most with Gryffindor. And since getting to know her better, we certainly agree. She's definitely courageous, kind-hearted, and always up for an adventure.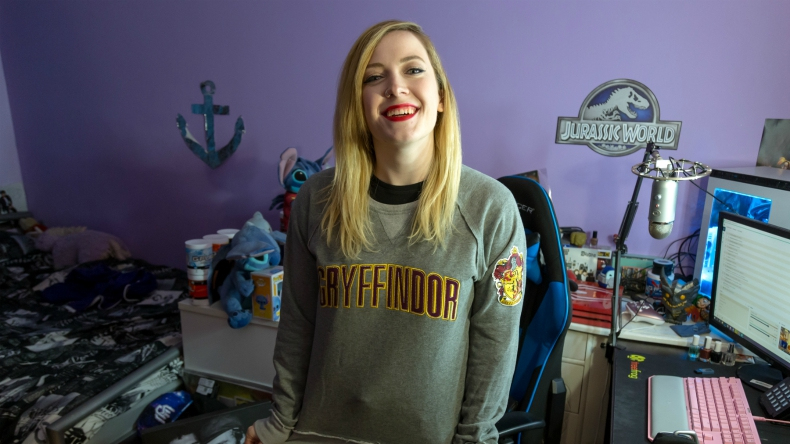 When the day was done, the most obvious takeaway was how incredibly hard she works. Sarah has achieved a lot in the past two years (sponsorships, thousands of dollars raised for charity, joining a female gaming team) and is determined to keep the momentum going. This October, she'll be a featured guest at Hal-Con, and also attends other major conventions throughout the year.
Although her family is very supportive, they still have moments where they're slightly in awe that this has become a 'thing'. When we visited, her Dad stopped by and couldn't help but remark just how fascinating it is that she's managed to turn this into a career:
"I wasn't sure what she was doing up all those nights, but now that I know, it's quite amazing what she's been able to do."
In the end, we were lucky to get a small glimpse into Sarah's world. With the growing popularity of online gaming, that world will just keep getting bigger and bigger.
And we know there are many talented gamers out there in Saskatchewan—even if they're not streaming on Twitch. So if you're out there, we definitely want to make sure you have a speedy connection to do what you love! Click here to check infiNET availability in your area!