It's no secret that we are all likely spending a little more time on social media these days, but it turns out we're not just spending all our time mindlessly scrolling, we're actively window shopping too. E-commerce has boomed in a huge way during the pandemic and shows no signs of slowing down anytime soon. Social media has made it easier than ever to turn your side hobbies into actual profits and with the help of SaskTel Internet these local creatives have uploaded their way to success.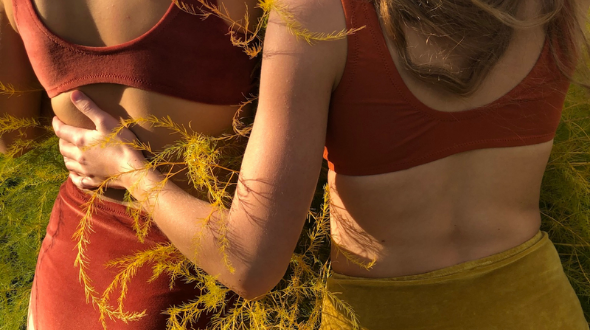 Five of Hearts Studio – @fiveofheartsstudio
Founded by Tara Malinowski in 2015, Five of Hearts Studio is a slow fashion studio with a focus on lingerie, swim and leisurewear. Slow fashion is a concept describing the opposite of large chain store fast fashion, which advocates for manufacturing with respect to people, the environment and animals. Choosing to create lingerie and swimwear was a deliberate choice for Tara, as these are not items you can commonly purchase from second hand thrift stores. "Realizing that many people had difficulties in finding comfortable, high quality options that fit and were sustainable gave me the confidence to make it a business," said Tara. With a goal of being ethically and sustainably produced, each item is made to order. This allows her to create pieces that fit perfectly, reduce waste, and encourage careful buying of fewer made-to-last pieces.

Tara created Five of Hearts Studio almost entirely using only Instagram to sell her products and for a few years didn't even have a website. Five of Hearts Studio is now online, but Tara still relies on her Instagram for much of her marketing. "It's been a wonderful way to connect to my customers, especially since I live a couple hours from any city," said Tara. Utilizing SaskTel Internet, Tara can stay connected to every Like, Share, Comment, and DM while also browsing for inspiration. "I use both Instagram and Pinterest to help with my inspiration," commented Tara. "They make connecting and researching so easy, no matter where you live."

This year, Tara plans to finish her 2021 swim line and continue to add new varieties of products to Five of Hearts Studio's online shop. While social media and online sales have certainly been invaluable ways to continue to grow her business, she is looking forward to being able to do pop-up markets again and connect in-person with her customers.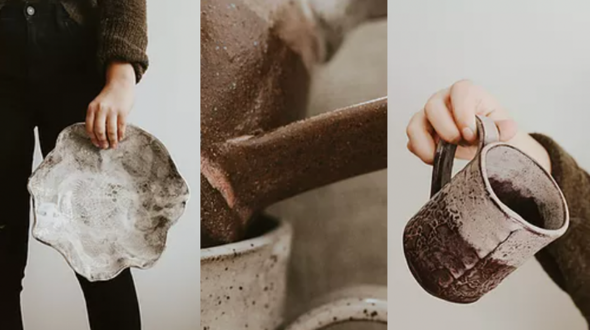 TheClayPeople – @theclaypeoplesk
Mother-daughter duo Mary and Lynn started TheClayPeople after Mary took a pottery workshop in high school and asked her Mom to join her for a two-week course at the local public studio in Weyburn. A two-week course turned into a membership and four months later, Mary and Lynn decided to look into selling their custom creations on Instagram. They launched their online store in April of 2020 and before they knew it, their newfound hobby turned into an exciting small business with high demand.

Utilizing slab work (meaning no use of a pottery wheel), Mary and Lynn roll out their clay by hand, dry, glaze, and fire their creations all out of their small studio shed located on their farm about a 30-minute drive outside of Weyburn. Creating their final products in such a remote area means having to get creative with connections. Mary and Lynn utilize their SaskTel Wireless to showcase their latest restocks on their grid straight from the farm, and hotspot their SaskTel Wireless connection for larger uploads such as updating their online store. Staying connected means having the ability to post on social media consistently, something that has helped TheClayPeople gain a larger following and have more engaged interactions with their customers.
Not being prepared for their seemingly overnight online success, Mary and Lynn often sell out immediately after each restock, so for 2021 they will be focused on creating, continuing to grow, and hopefully expanding their studio to allow them to create, fire, photograph, and store their products all under one roof.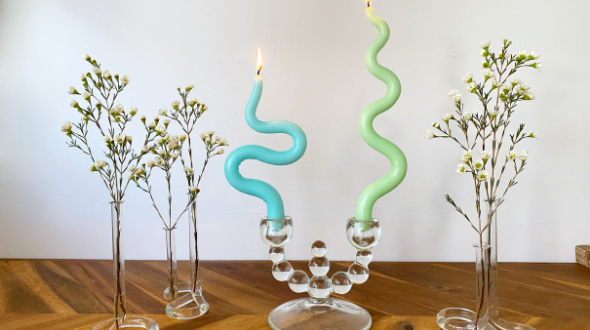 Viisiionss – @viisiionss__
Manny Johnston and her partner created Viisiionss during the winter of 2020. Like so many others this past year, Manny's partner was laid off from work just before the holidays. Being a stay-at-home mom to their three-year-old son, having the extra hands at home meant having a bit more spare time. "I had seen some groovy candles popping up on my social media feed and thought, we should attempt to make some ourselves," said Manny. So the pair got to work and after many failed attempts to replicate her inspiration, they eventually found the magic recipe for groovy candle success.

After deciding on a fun wax colour, they begin sculpting. "It's a process where we have to work very quickly, yet delicately!" said Manny. "We enjoy coming up with new shapes and colour combinations." Once the candles cool, they are able to be packaged– an important step that Manny feels is key to selling products during a difficult year. "We try to wrap the candles in a way that is as beautiful and fun as possible. With everyone stuck at home, it is important to bring joy into customers' homes through both our product and its packaging."

Viisiionss' entire business is based solely on social media and their online presence, so having a secure reliable internet connection is key. SaskTel Internet speed and reliability allows them to showcase their new products online in an instant, without having to worry about slow upload speeds or bad connections. Plus, after making the choice to upload their recently honed craft to Instagram, their business took off and before they knew it, the orders started piling in. They were soon contacted by stores not only locally, but internationally, excitedly looking to stock their unique products.

Viisiionss has grown into a full blown full-time business, with much of their growth coming from customers sharing their purchased candles, holders, or glassware on their own social media pages and tagging @viisiionss__. In 2021, Manny hopes to continue to grow their online presence and add to their international stock list. Once the pandemic subsides, they would love the opportunity to travel to some of their current stock list locations in San Francisco, Los Angeles, and Montreal. In the meantime, they hope to expand the shape and style selection of their candles.

No matter what they create, social media is proving to be an essential tool in the belts of local creatives as they showcase their talents to the world and grow their craft into tangible income. SaskTel Internet keeps these local creatives connected to their customers, inspiration, and community – so they can spend less time worrying about slow upload speeds and bad connections, and more time creating and sharing their products with the world.