Growing up in Saskatoon, Mitchell Larsen always had a passion for the arts. With many successful plays under his belt, he now splits his time between performing and holding a board position as Vice President of Floyd Theatre. This year, alongside many other theatre companies and individual performers, Floyd Theatre is taking part in the Nutrien Fringe Theatre Festival.
Mitchell Larsen. Photos: Ken Greenwood Photography (left, centre), Austin Nygaard (right)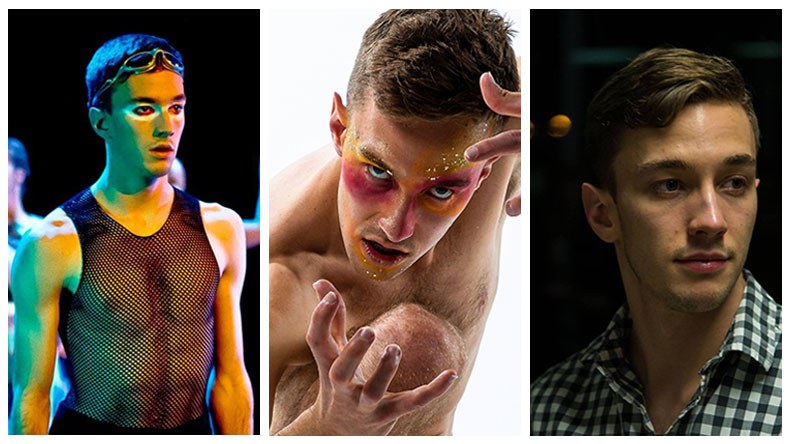 The idea behind a 'Fringe Festival' is to explore the arts in a non-traditional, experimental way. Every year, dozens of festivals take place around the world and thousands of shows are produced. Stories with heart, grit, laughter, and innovation are showcased by a variety of different creators.
The ideas are fresh. Performers are diverse. Audiences are wowed. Mitchell agrees that Fringe is necessary to progress how we think about and consume art.
"The arts community has historically been known for its progressive ideas, and you're even starting to see bigger theatre companies embrace ideas they never would have previously. The great thing about smaller companies and events like the Fringe Festival is that they aren't necessarily looking to please people. They are looking to explore and push the boundaries. A lot of times they are the ones that inspire bigger theatre companies to take risks on new ideas."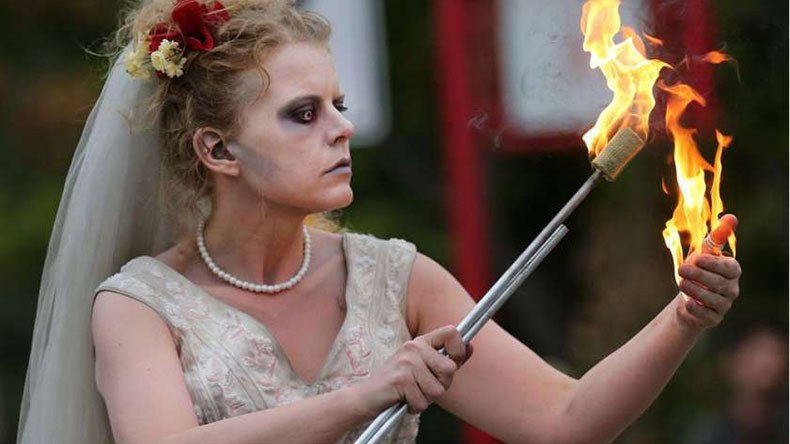 With the 10-day festival kicking off August 1st, Mitchell gave us some insight of what to expect this year.
"In previous years, I'm always surprised at just how good the quality is, and how intensely I was able to connect with a lot of the pieces. The level of professionalism and skill was very high. This year will be no different. Fringe is magical, in that you have so many different and possibilities and options... but the beauty is that you won't be able to see it all. It's a limitless possibility. There's always going to be more to see and explore. Plus, the real-life experience of live theatre is unlike anything else."


Keeping theatre alive
A lot of Mitchell's passion lies in maintaining an active presence of theatre in Saskatoon. He spoke of the importance of supporting your local artists.
"Sometimes there's a misconception that artists shouldn't be paid because they're doing something they love so it's not monetarily valuable. But, thinking like that can be damaging to the community. I think that if there's one thing we took from the arts community, it would be that maybe we can ALL do something that we love. We have to see the value in that if we want to make the world a better place."
Mitchell Larsen (left), Torien Cafferata in 'The Gay Card' Photo: Logan Martin-Arcand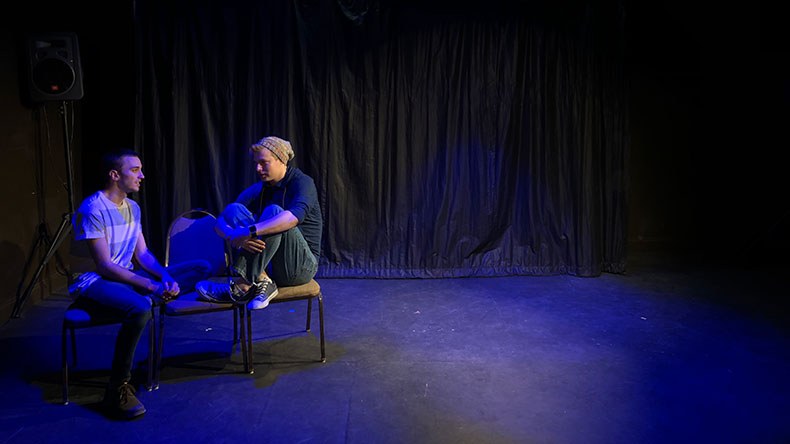 Planning your experience
As always, this year's Nutrien Fringe Theatre Festival has a lot going on. Between the street performances and the six theatre venues hosting shows, an astonishing 231 performances have been scheduled.
If you haven't already, pick up your July 31st preview night tickets ASAP since the event is usually sold out. Other tickets and all programming info can be found at www.25thstreettheatre.org.
Here at SaskTel, we are delighted to be a sponsor and couldn't be more proud of this year's artists. And, be sure to check out the happenings at Kinsmen / Cosmo Hall-- we hear good things are a brewin'!