What is Friendsmas, you ask? It's friends celebrating being friends during the Christmas season. We compiled a list of five ways to make your life easier this season (especially if you volunteered to host the event and now regret it) so you can spend your time enjoying the party. We want to hear the handy tips you have too! Leave us a comment at the end of the article.
Prep your playlist—or let somebody who cares do it
The foundation of any great get-together is music. A carefully curated playlist can take a party from a snoozapalooza to Christmas lit. There's an art to choosing music to match the mood of the environment you'd like to create, so spend some time creating one on your own, or enlist the music buff of your group to do it, then connect to a Bluetooth speaker and forget about it!
There are countless curated-for-you playlists to get you started with song selection. Are you a fan of pop hits? Spotify's Christmas Pop playlist has current renditions of all the classic Christmas hits, sung by artists like Miley Cyrus, John Legend, and (of course) Mariah Carey.
If you're looking for a smooth, jazzy playlist, perfect for the post-dinner coma, then give Spotify's Christmas Jazz playlist a try. The velvety voices of Jamie Cullum, Nat King Cole, and Michael Bublé will ease you into the rest of the evening.

To spice things up a little bit and gamify the night, why not incorporate some of the rules of The Little Drummer Boy challenge to the evening? Spread different renditions of the holiday classic randomly throughout the playlist. When one starts playing, have everyone do the same thing as they notice—whether it's touching their ear, or holding their glass a certain way—and the last person to notice the song playing in the background has to do a dare.
Is Christmas music not your thing, but you still want something holiday appropriate? Try this Dinner With Friends playlist, which will have all your friends humming along to hits by Leon Bridges and John Mayer.
Assign potluck dishes (so you don't end up with 8 salads and no stuffing)
Is Friendsmas at your place this year? Using the app Potluck Hub, create an event and invite friends from your contact list to your party. You can add things for guests to bring to the potluck and let each person pick something off the list. You can even use the in-app chat feature to coordinate details, remind each other to wear pants with extra give, and make sure the party will have everything you need. No one wants to end up at a Christmas dinner party that's all salads, but no stuffing.
Friendsmas is a great place to make some less traditional sides, so consider something like turnip or celeriac mash in place of familiar potatoes, and skip steaming the Brussels sprouts in favour of serving them pan-roasted with chili and bacon for a veggie that people will be excited about! If you're looking for an easy appetizer that can feed a lot of people, pick up a couple of packs of puff pastry (thaw them in the fridge overnight!) and bake it with pretty much any combination of toppings—spinach and feta, caramelized onions and bacon jam, or any of these delicious ideas. We also love making dessert a communal activity by baking sugar cookies or gingerbread cookies ahead of time and decorating them together.
If you really want to be the hero of the evening, plan for leftovers and pick up extra take-out boxes before the party so everyone can take a second meal home with them.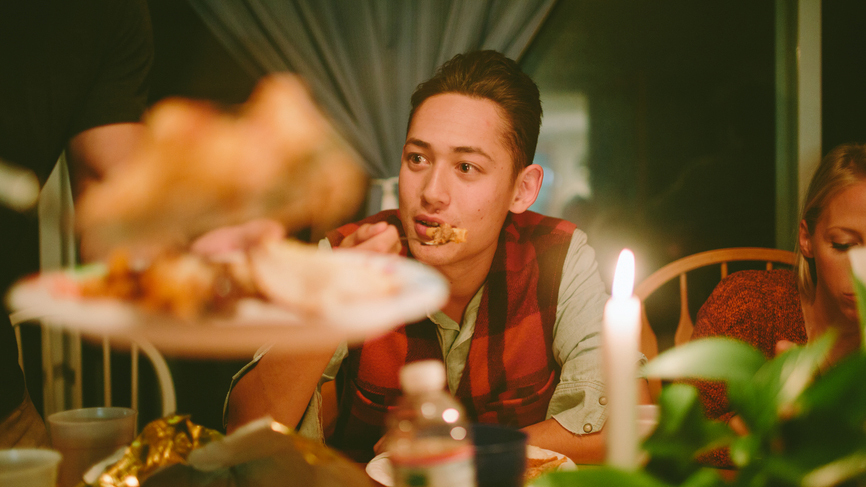 Plan some games to keep the energy up!
If you're looking for ways to lighten the mood at your holiday gathering, take a look through this list to find some great group games to keep everyone busy and having fun. From Christmas Carol Pictionary to Santa Limbo, it's a list chock-full of ideas to keep people of all ages entertained at your next holiday party. If your Friendsmas group loves to play charades, then this Holiday Charades app is for you!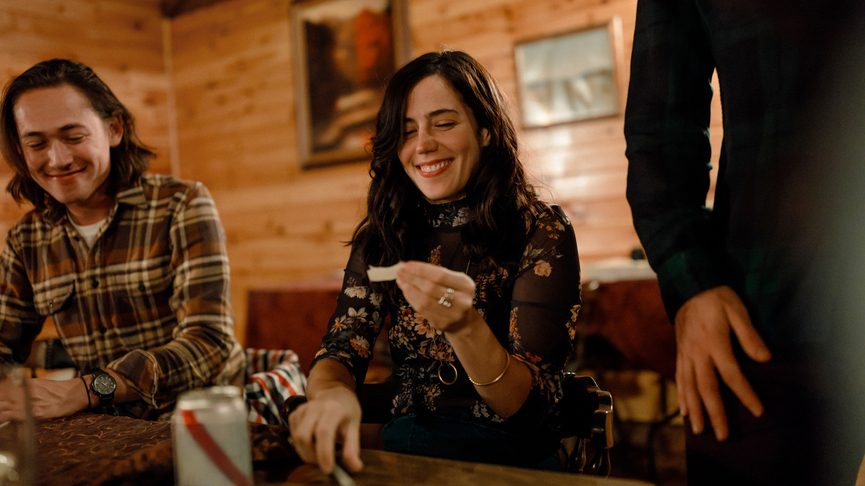 Buy some small gifts—like a box of chocolates or some wonderfully tacky Christmas ornaments—to award to the winners of the games so there's an incentive to win… unless you're one of those competitively minded groups who think the pride alone is incentive enough!
...or silently play classic Christmas movies to add some aesthetic
To add a beautiful aesthetic to the party without breaking the bank on decorations that you'll only pull out once a year, make use out of your big-screen tv and play classic Christmas movies without the sound. Check out The Holidays at Your House: a maxTV guide for starting new traditions to see which holiday classics are playing on maxTV this season. The Fireplace channel (channels 46 (SD) and 346 (HD)) is also a good way to keep people feeling cozy and nostalgic.
If you're looking to amp up the party, the Stingray Karaoke holiday edition will be the ultimate fuel for your friends.
So you procrastinated gift-buying, eh?

There are two types of people in the world. Those who give gift cards, and those who buy gifts. If your pals are the gift card types, then grab one for the SaskTel Store. Did you know that a gift card to the SaskTel Store also works for bill payments? Leave the option up to them, and let them decide how to best use the gift.

If you're looking for a budget-friendly approach to Christmas gifting, then why not try a funny sock-exchange? Socks have become such a fun trend recently, and you can find hilarious options both in stores and online. If you really want to get creative you can personalize your print. From puppies, to a friend's face, to a favourite celebrity crush... exchange fun socks for Christmas. If a sock-exchange doesn't seem like the right fit for your Friendsmas, then doing a regift exchange is a great, eco-friendly alternative: everyone simply brings something nice from their own homes that they would like to rehome so someone else can make use of it.

What are some ways that you like to celebrate with your friends at Christmas? Let us know below in the comments!