SaskTel customer and owner of Kate's Kitchen Online, Kate Rawlyk has made it her mission to inspire people to have fun in the kitchen. She says with some experimenting, you can become an expert in the kitchen quicker than you think.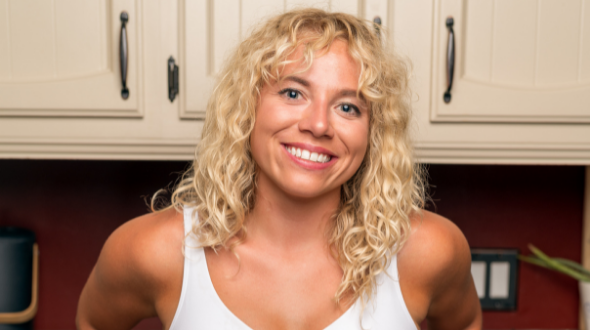 Bustling around the kitchen creatively pairing foods has always been Kate's most natural state. She owes her passion for cooking to her Mom who let her take the reins in the kitchen from a very young age. Once Kate moved away from home, she quickly learned she had to figure out a way to make healthier nutrient-dense meals without sacrificing taste. When she started posting cooking videos casually filmed by her roommate, many followers sent her encouraging messages saying how much they loved watching. She then began putting her energy into creating her Instagram page (@kateskitchenonline) and her user-friendly website. Kate noted that much of the ease creating and maintaining her platforms is due to clear and crisp internet connectivity and speeds.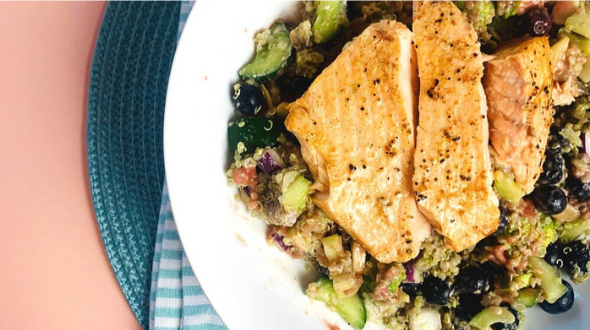 When asking people what they struggled with in the kitchen, many of Kate's followers had the same answers: they get bored with their meals, they can't think of anything new to make, healthy food doesn't taste good…. Hearing this, Kate knew she wanted to continue sharing simple recipes that her followers wouldn't be too intimidated to tackle. Her most popular recipe is broccoli, butter, garlic, kale, and cheese baked in the oven for about 40 minutes or until it's crispy.

Kate stays inspired in the kitchen by scrolling through online platforms such as Pinterest, and more recently, TikTok. TikTok is a newer platform where you can find home-based chefs (or even regular people) sharing their favourite recipes. These recipes are typically quick and easy and beginner-friendly. Kate says she is committed to finding the best technology and apps to help her be more efficient in the kitchen.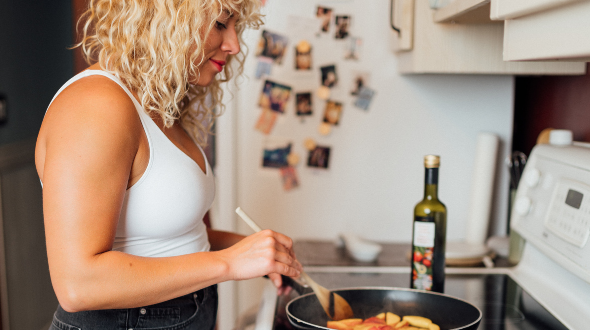 Keeping tabs on what's in your fridge is a good start when it comes to developing a recipe. Kate recommends taking random ingredients from your kitchen and making something unique out of them. This challenge will inspire you to pair ingredients and get creative with what you already have.

In order to be flexible and creative on a whim, it's important to make sure you have the basics already stocked in your cupboards. Kate recommends investing in a good spice rack that has all the essentials. She also suggests having fresh lemons and limes, olive oil, a can of chickpeas, another can of black beans, fresh garlic, and honey for a sugar alternative.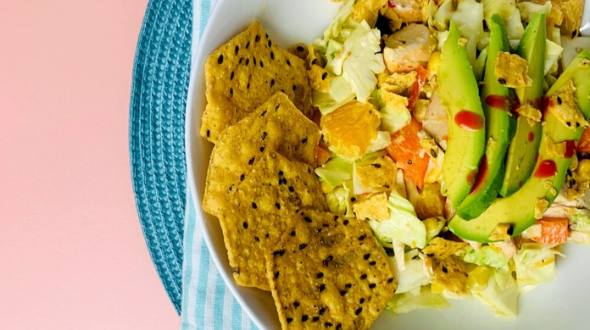 Learning how to cook is all about trial and error and dedicated practice time. The more time you spend learning in the kitchen, the more likely you are to get better at it. The good thing about cooking is it's not super specific. You can always improve your dish as you go, by tasting and adjusting. Kate says once you start to understand the basics of flavour balancing, you are set up to adjust any dish at any stage of the process.

The most beneficial thing you can do for yourself when cooking is to have all your ingredients chopped up and ready to go. Kate suggests reading through the whole recipe and ingredient list so you can have everything pre-measured. This is guaranteed to take 99% of the stress out of your cooking experience since you won't be frantically trying to get everything prepped as you go.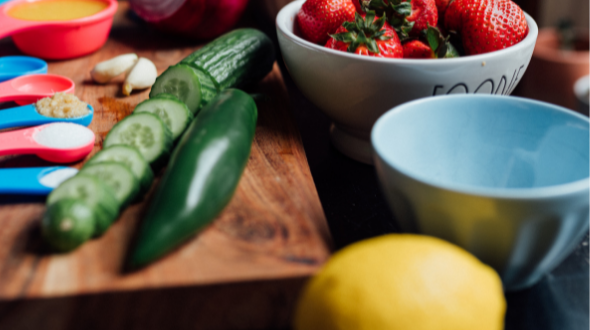 Tune in Thursday, July 29 when Kate will be walking followers through a recipe for people at all cooking levels. She will be making Peaches and Brie Turkey (or Pork) Burgers with Spicy Ginger Peach Arugula Salad. This recipe, despite sounding fancy, is simple to follow, the ingredients are accessible, and it's something fun and delicious to grill up on a hot summer day. Keep an eye out on SaskTel's Instagram for more details and peep the photo below to see what you're in for (yum!). Leave a comment and let us know if you're tuning in.

Photo credits: Nomadic Stories (@nomadicstories) and Kate's Kitchen Online (@kateskitchenonline).