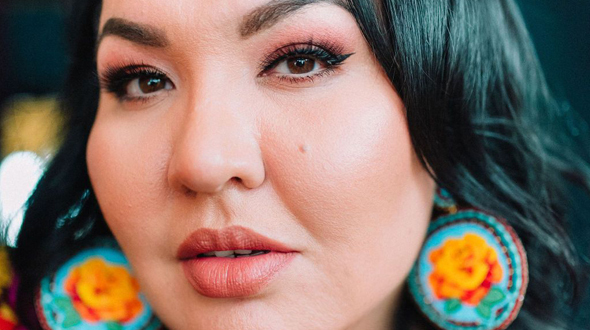 They say a photo is worth a thousand words and this most definitely rings true for self-taught photographer Tenille K Campbell. Tenille (@sweetmoonphoto) is Dene from English River First Nation and Métis from the St. Laurent/Batoche area. She has been a photographer now for 12 years and specializes in photographing Indigenous people in ways that express their stories and communities. She's photographed everything from down-home baby showers at the community hall, to national gigs in fancy ballrooms. Some of her most notable shoots were with Indspire and Northern Cree.

There is no denying that Tenille comes from a family of storytellers, and hilarious ones at that. She has memories of her dad packing her, her three brothers, and her mom into the Suburban for road trips. They would drive all over, taking turns telling stories and making each other laugh. These family trips fostered Tenille's love for sharing her own stories through photography and writing.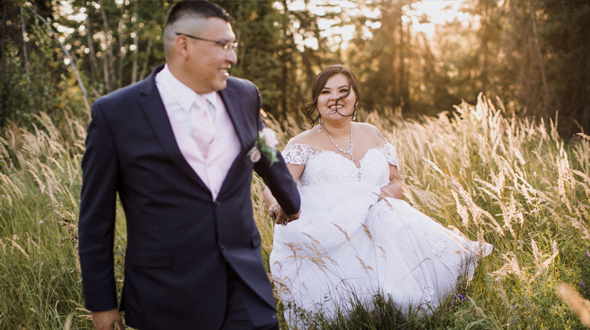 Since Tenille was the first in her family to attend grad school, her parents wanted to get her a gift. She said she wanted "one of those cameras where the lens pops up." Having no experience with anything other than her mom's film camera back in the day, Tenille took it upon herself to learn how to become a photographer.

Not long after finishing her master's and returning to Saskatchewan, Tenille received a phone call from someone in her community asking if she would be interested in photographing her wedding. From there, her photography business started to grow, completely through word of mouth. Tenille says, "With photography as an expression of storytelling, there's so much responsibility in getting authentic, appropriate images of Indigenous people and people of culture. I realized the sense of responsibility I now had."

"Walking into communities as a guest and being gifted that time, space, and responsibility to photograph them in a way that reflects their culture and values is amazing." - Tenille K Campbell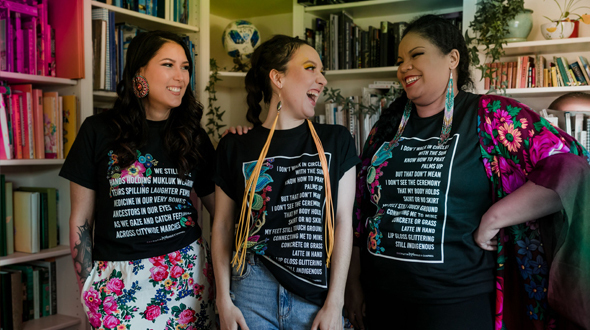 With the help of Tłı̨chǫ Dene Author Richard Van Camp, her professor at the time, Tenille officially named her new business Sweetmoon Photography. Tenille believes she'd never have become a successful photographer if it wasn't for the support of her community. "They are still so proud of me," she says.

Tenille has been with SaskTel ever since she got her first cell phone at 18 years old. She says, "I literally couldn't do my job if I didn't have access to the internet and my cellphone. What I do is a digital expression and I couldn't do what I do without SaskTel."

Her photography career is truly just the tip of the iceberg when it comes to Tenille's story. She has been writing poetry ever since she was a little girl, filling her diary full of original poems. The first book she published was #IndianLovePoems, an award-winning collection of poetry that uses humour and storytelling to reclaim and explore ideas of Indigenous sexuality. Tenille was really trying to hit people's humour buttons with this book. She says, "It's filled with our joy and our sassiness and I think it's relatable to everyone, not just Indigenous people."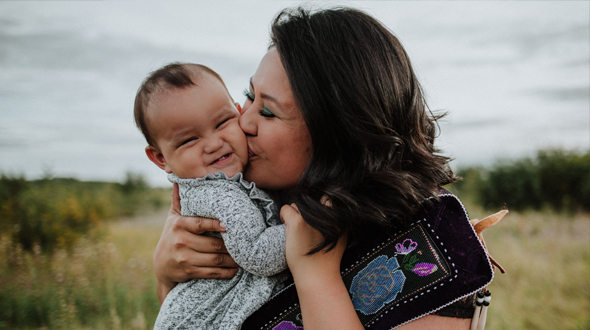 This then snowballed into her next book, Nedi Nezu, which means good medicine in Dene. Tenille says, "In Nedi Nezu, we're talking about loving ourselves in our thick and fat bodies."Her favourite moments are when people come up to her and say, "I've never read a poetry book in my life, but I read yours from start to finish."

Looking for even more ways to express herself and others through writing and photography, Tenille started a blog called tea&bannock. She wanted to shift a spotlight onto strong Indigenous women. With this motive in mind, she created a space for Indigenous women photographers to tell their stories. Tenille says, "I wanted to hear about women and people like me who have to balance motherhood and business."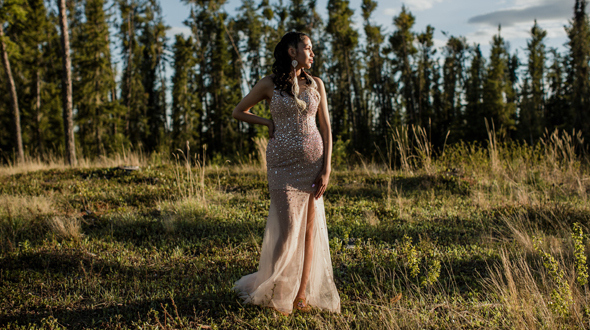 Tenille says, "People resonate with the images that I capture because too often North American culture has this idea of Indigenous culture based on the stereotypes of Indigenous identity." Tenille works hard at curating images beyond the stereotypical by telling stories about the many Indigenous cultures we have in Saskatchewan.

Be sure to keep up with Tenille by following her on Instagram and Facebook. Visit her website for more information on Sweetmoon Photography and how you can book a session!

*All photos belong to Sweetmoon Photography.