What we do and how we do it matters in securing a better quality of life for all Saskatchewan people. Here's a taste of some of the community initiatives we stand behind.

The full stories, and many more, are in our 2022 Environmental Social Governance (ESG) report.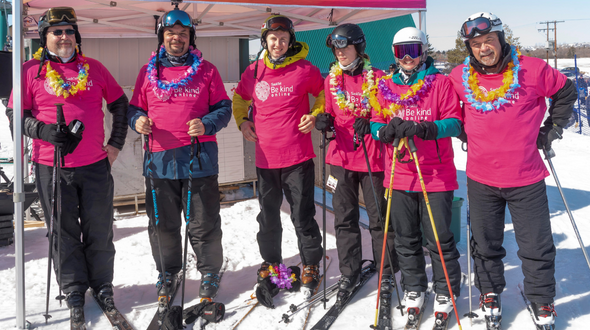 The Benefit of Downhill
SaskTel Challenge Cup Raises Funds for Adaptive Ski Cup

This event is a downhill skiing and snowboarding race featuring teams of five people – four able-bodied, and one person with a disability who often works with a race guide. The teams take turns racing down a slalom course where each group member is timed. At the end of the day, scores are tallied and the winning team is declared.

Funds generated from the race are used to purchase adaptive equipment that enables people who experience disability to ski independently or with a guide, as well as specialized training and certification for instructors through Canadian Adaptive Snowsports – also known as CADS.

The Adaptive Alpine Ski Program allows individuals with disabilities such as spina bifida, cerebral palsy, vision loss, cognitive disabilities, and spinal cord injuries to participate in the sport of skiing in a fun competitive setting.

Mark Flaman, Engineering Assistant – SaskTel Wireless, is Amy's race guide and a dedicated longtime volunteer with the Adaptive Alpine Ski Program. Amy is visually impaired and says she has less than 10% of her vision.

"I feel the event is important because it allows people with different disabilities to be able to take part in an outdoor sport that they would never be able to do on their own," Mark said. "By committing to this program, it gets me outside, and allows me to assist others to take part in something they enjoy."

This year, SaskTel's team came in third place thanks to its dedicated members: Lloyd Johnson, Dave Schmidt, Olivia Caisse, Carter Caisse, Amy Alsop, and Mark Flaman.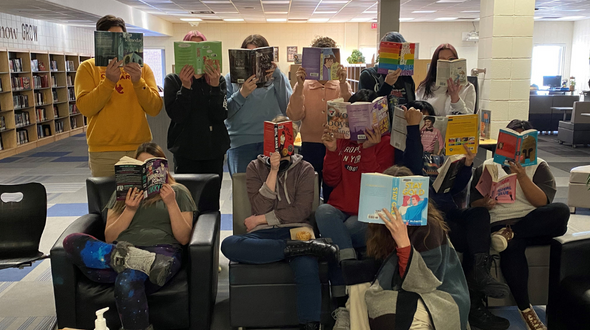 Kindness and Inclusion
Students Support Diversity and Inclusion with Be Kind Online Grant

Grade 10-12 teacher Corinne Pirot says she's proud to hear her students at Archbishop MC O'Neill Catholic Highschool boast often about the school's True Colours Gay Straight Diversity Alliance (GSDA.)

The high school's True Colours GSDA is a Be Kind Online Celebrating Diversity grant winner and they used the funds to purchase books for their weekly book club that promotes inclusion and acceptance, especially with 2SLGBTQIA+ topics..

"There are a lot of students on the margins who show up differently in life. Unfortunately, when they are different, they are often bullied or ostracized," Corinne said. "This club gives our 2SLGBTQIA+ students a safe place to come and be themselves. A place where they are accepted and loved just as they are, which is critical for their mental health."

"Receiving this grant means I can run the program and support these precious students," she said. "It also tells me that SaskTel knows how important these kids are because they are willing to put their funding behind it!"

As the group's Be Kind Online grant application met all the criteria for promoting kindness and inclusivity while combating discrimination, SaskTel was pleased to crown them a winner.

SaskTel Sponsors the Saskatoon Tribal Council Health Bus

It takes a community to make real change, and the Saskatoon Tribal Council (STC) Health Bus is driving forward to deliver life altering services for those who need it most.

Sponsored in part by SaskTel, the STC Health Bus hit the road in October 2021 to serve seven First Nation communities within the Saskatoon Tribal Council.

Staffed with two paramedics, a dentist, one dental assistant as well as a mental health therapist, the program's RV trailer is equipped to provide on-site services for all community members with a fully functioning dental office, heated outdoor paramedic tent, and office meeting space.

"Thanks to the help of our sponsors, we've been able to build a world class health bus," said Craig Sled, SaskTel Director of Business Sales and Member of Synergy 8 Community Builders. "Our first focus is on youth on reserve, but anyone in the community has access to the services offered."

"We are going to make significant changes in a lot of peoples' lives and, for that, it's not something you can put a value or a price tag on," Craig said. "There's going to be more of these (buses) across the country and certainly in Saskatchewan. It's a model that's going to get repeated, and we feel really good about that."

Want to see the full stories? We'd love it if you'd check out the complete SaskTel ESG Report.

Do you know of an event or cause that warrants our support? We invite you to fill out a sponsorship application. Want to join us in the fight against cyberbullying? Fill out a Be Kind Online grant application. You can also help those in need by recycling your phone. Here's how. Whatever you do, make your actions count and get involved.