In Saskatoon, the Montgomery Garage Sale, absolutely owns the garage sale season. This weekend-long, neighbourhood-wide event has been going strong for over 30 years, and it gets more awesome every year. This year, the must-go day is Saturday, May 4.
First, let's talk about the food! You've got your pancake breakfast (a fundraiser held at the community church), burgers, sausages, and hot dogs on almost every block, and some pretty choice snacks: freshly fried spring rolls? Bannock and jam? Homemade baked goods? They've got it all.
And this thing is ENORMOUS. This isn't a little rummage sale at the community centre, this is a whole neighbourhood turning into an open air market for the weekend. If you're that person who gets lost in the mall, maybe drop a pin in Google Maps after you've found a parking space so you can find your way back later. This is a huge sale with a huge variety of treasures to be found: gently used kitchen appliances, as-seen-on-tv novelty items, furniture and home décor, whozits, whatzits, thingamabobs—the Little Mermaid would love every last bit of it.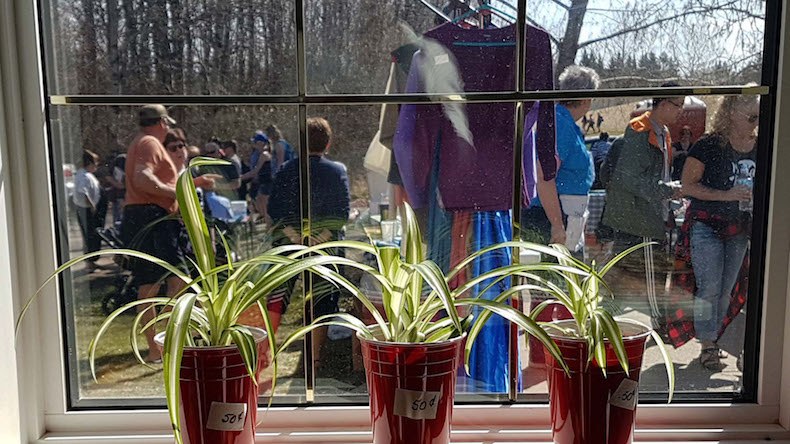 Obviously, nobody's asking for retail prices at garage sales. Even the stuff in really good condition will be going for around 50% off the original price, and most items will be pretty deeply discounted below that. So refurnishing your whole apartment, trying out every craft you found on Pinterest, adding to your wardrobe, and expanding your garden gnome collection can all happen on a pretty small budget. New-in-box BEDAZZLER™, $32 on Amazon? $1 at the Montgomery Garage Sale. Um, thank you—sold.
Bonus: everything you pick up at a garage sale stays out of the landfill a little longer. Almost every garage sale we've been to has a couple of unwanted chairs, a desk, end tables, or other big pieces that need new homes. Multiply that by several blocks of Saskatoon, and you're diverting literally tons of stuff from the landfill.
Speaking of tons of stuff: have you ever watched an episode of American Pickers or Pawn Stars and daydreamed about making money finding hidden treasure in a storage container of somebody else's old stuff? No? Just us? Awkward. (But check them out on maxTV! and tell us it doesn't look like fun.)
Anyway, if you're dedicated enough to buying and reselling vintage things, garage sales can be a gold mine! You may not find an original pressing of Sgt. Pepper's Lonely Hearts Club Band in that box of vinyl, but you can still make some decent money on resale. Most common advice says don't buy something if you can't sell it for three times what you paid for it, so choose wisely. If crafts are your jam, refinishing and upcycling unique stuff for resale on Etsy can also bring in extra cash.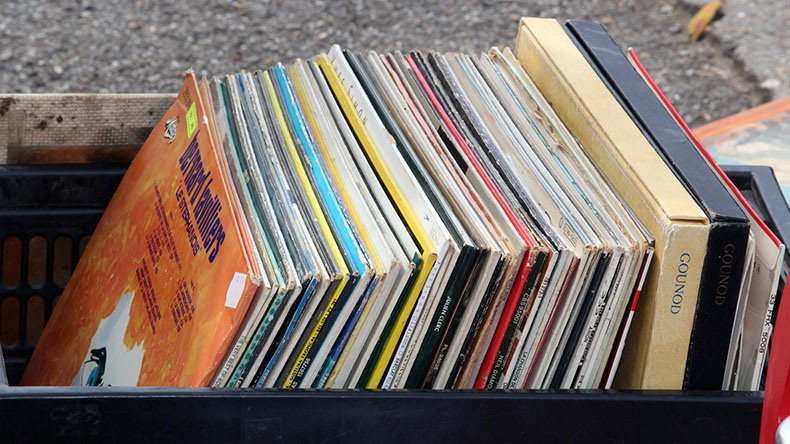 Beyond all that, cruising garage sales can just be a fun way to spend the weekend with your family or friends. Hit up a sale with a rack of clothing and make everybody buy a weird hat to wear for the rest of the day—it'll also make it way harder to lose your group. #BuddySystem
Not looking to buy things? Set up a photography scavenger hunt. Or just get out and get some sunshine and fresh air, talk to new people in the neighbourhood, and enjoy yourself! Nothing says "this way to possibility!" like the combo of handwritten signs and balloons on the street corner.