We're your guide to the 2022 Grey Cup Festival.

When it comes to major sporting events in Canada, nothing tops the Grey Cup. Whether you're a football fan, or just there for the food and half-time show – all are welcome for this momentous event. As a gold sponsor, SaskTel is rolling out the green carpet for the 109th Grey Cup. We'll be treating this like the Oscars pre-party… but Saskatchewan-style. We're bringing CFL fans together and it seems only fitting to give you the complete lowdown (or… touchdown) on all things Grey Cup Festival.

First things first, let's start off by sharing the Grey Cup Festivities Schedule: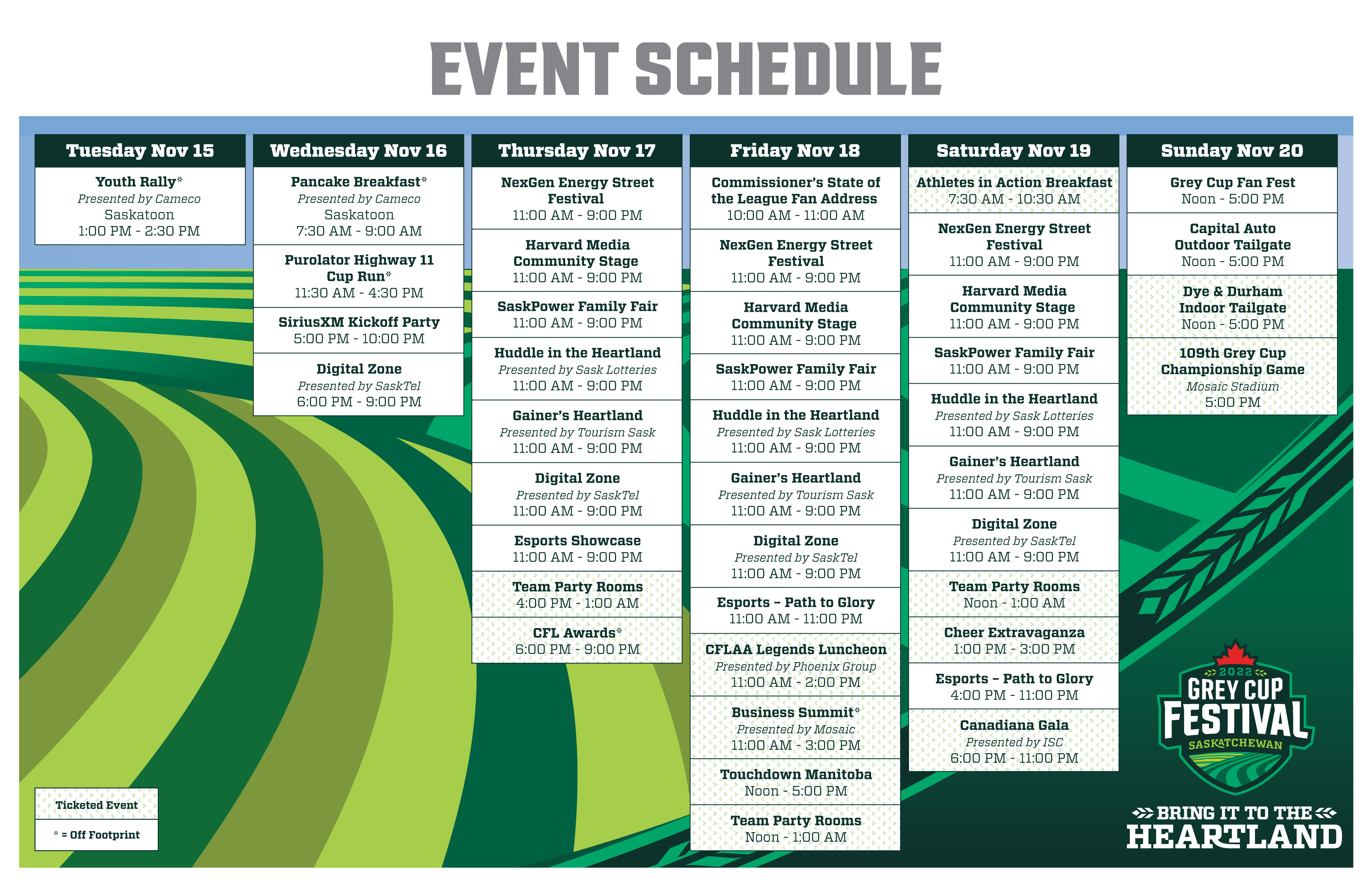 Grey Cup Festival Grounds Map: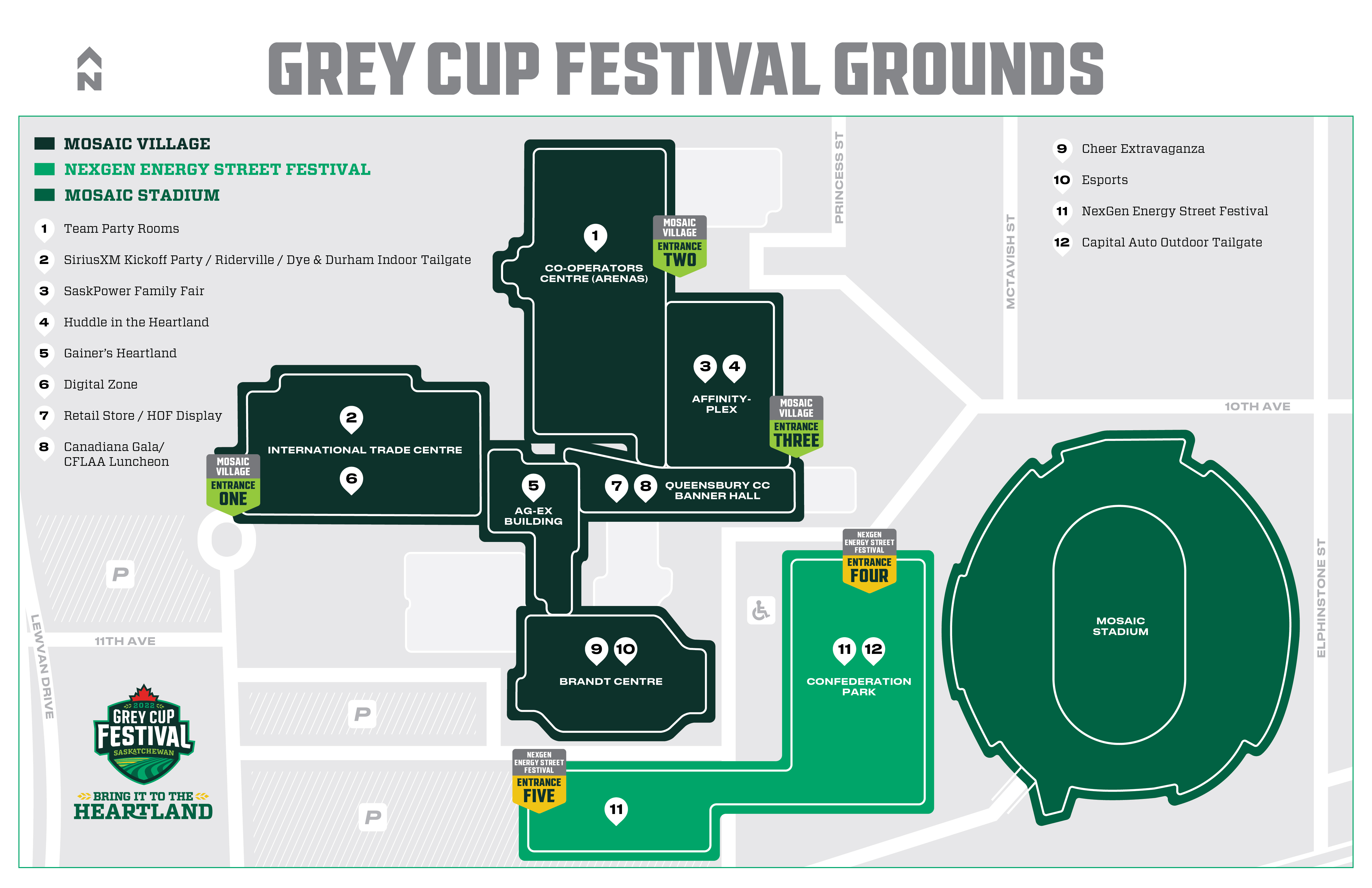 Next, let's check what events will be happening at each venue:

NexGen Energy Street Festival
The NexGen Energy Street Festival is the ultimate outdoor venue, hosting a number of interactive activities.
Enjoy live music at the Harvard Media Community Stage each day of the festival
Bring the little and 'big' kids out to race down the SaskPower Tube Slide
Be there for the brand new Interactive Light Displays
Enjoy a cold one and some great food in the beer garden and grab a bite at one of the many food trucks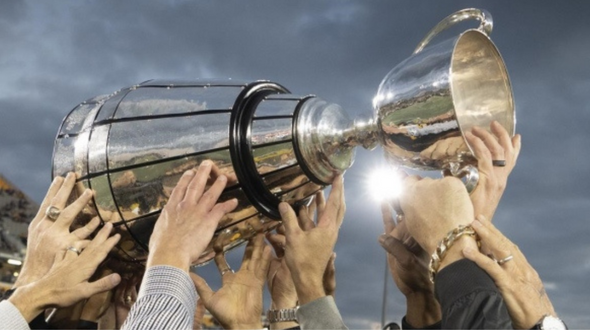 Mosaic Village
Mosaic Village will be the home to many exciting festival events and activities bringing all ages together.

Inside, you'll find:
SaskPower Family Fair
Youth Football Event presented by Sask Lotteries (inside SaskPower Family Fair)
Military Obstacle Course (inside SaskPower Family Fair)
Huddle in the Heartland presented by Sask Lotteries (inside SaskPower Family Fair)
Digital Zone presented by SaskTel
Team Party Rooms
Esports Path to Glory Tournament
Cheer Extravaganza
Gainer's Heartland presented by Tourism Saskatchewan
Dye and Durham Indoor Tailgate
NexGen Energy Drone Show
Food Vendors
Saskatoon Events

If you're located in the Saskatoon area, you can still join the party!
Check out the following events!
Youth Rally presented by Cameco
Pancake Breakfast presented by Cameco
Purolator Highway 11 Cup Run (starting in Saskatoon and ending in Regina)
This action-packed week will be a once-in-a-lifetime football party. And although the Grey Cup tickets are sold out, below are some events (and secret passes) that we're most looking forward to.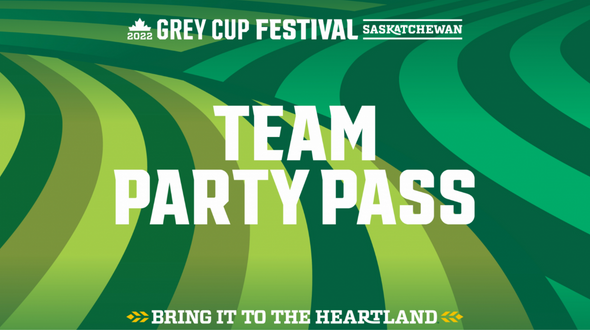 Get Your Team Party Passes
Dress to impress as you hit up Saskatchewan's biggest party at the 2022 Grey Cup Festival! Eight CFL teams plus the Atlantic Schooners will be represented at the Grey Cup Festival so it'll be easier than ever to check out each and every team room experience. The Team Party Pass is returning for the first time since 2013 so be sure to get your pass now for access to all six Team Party Rooms! This experience is a MUST. Find out more info here.
*Ages are 19+ only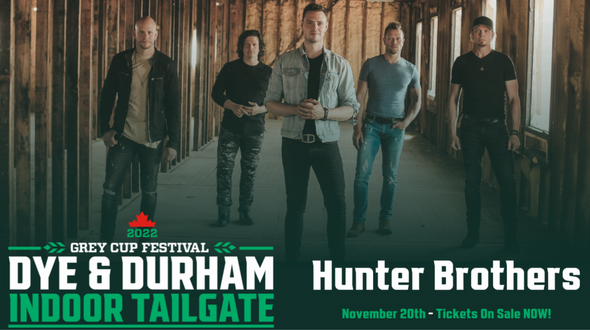 Don't Miss Out On The Dye & Durham Indoor Tailgate Party
We're excited to announce the Hunter Brothers as the headliners at the Dye & Durham Indoor Tailgate. This much anticipated pre-game party is where thousands of CFL fans will gather one last time before heading to the 109th Grey Cup championship game at Mosaic Stadium. No matter what CFL team colours fans wear, this will be the time to unite together as a province. Find out more info and purchase tickets here.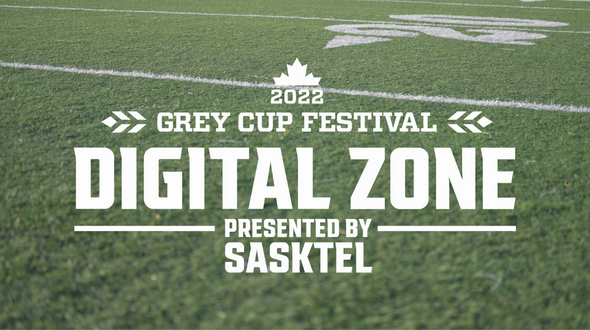 Check Out The Digital Zone Presented by SaskTel
The Digital Zone is the ultimate experience for families, sports fans, and tech gurus – and that's where you'll find us! This lively, interactive area connects the Family Festival with Riderville and the Team Party Rooms. Running from Wednesday, Nov. 16 - Saturday, Nov. 20 in the International Trade Centre Building… you can be sure to expect video games, sports experiences, and technology through the ages – all at the Digital Zone. Bring the whole family or make it a fun night out with friends. Read more about it here.

What are you most looking forward to at the Grey Cup Festival? Is it the food, the green carpet looks, or the events? Let us know in the comments below!