As many community studios temporarily or indefinitely close during the pandemic, artists around the world have had to get even more creative than usual with how they create and showcase their work. Creating art has become an important form of self-therapy and expression for many during this time, and is often used as an outlet to boost moods and reduce stress. SaskTel has also been helping contribute to reducing stress with the recent announcement of Unlimited Data, waiving all data overage charges for customers from now until June 30, 2021.

We caught up with a few local artists and asked them to share some of their work with us, while describing what has kept them motivated and inspired during this time. We asked them to touch on how their SaskTel Internet has helped them stay connected to their community over the past year.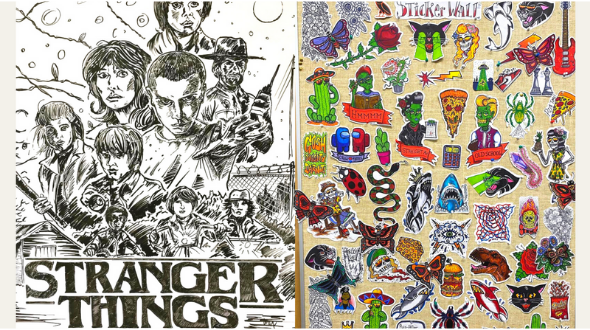 Andres Araneda (@_art_by_dre_)
Andres is both an artist and a teacher known for his epic classroom whiteboard murals (and ensuing horror of watching him erase them!) who was always encouraged to create from a young age. "I used to spend time drawing with my mom around the coffee table when I was around four years old. She would draw me special pictures for my birthdays, and I would spend hours trying to copy the drawings she would make of my favourite cartoon characters." said Andres.
Classroom learning has been a little different this past year, so to keep his students engaged and also stay inspired to draw more himself, Andres started designing stickers that his students could earn by completing certain projects. "I love taking suggestions and drawing inspiration from their wacky ideas!"
Showcasing his creations to the world outside of his classroom has been easier than ever with the help of social media. Andres' Instagram is always buzzing with his latest sticker design, whiteboard masterpiece, or gorgeous pet portrait. Having a SaskTel Internet connection with a fast upload speed allows Andres to upload all his incredible creations from his classroom to the world in a flash.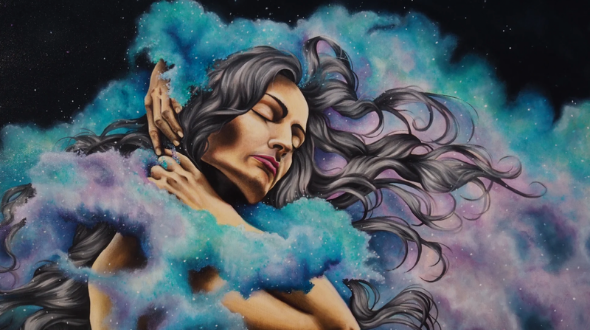 Madison Pascal (@madisonpascal)
Madison has always been a creative person, with her parents also encouraging her creativity and allowing her opportunities to learn and grow artistically. She has fond memories of attending art classes at the Neil Balkwill Civic Arts Centre by the age of 7, and has gone on to create absolutely stunning works of art including auction pieces for the Habitat for Humanity Gala, as well as contributing to the Urban Canvas project for Downtown Regina.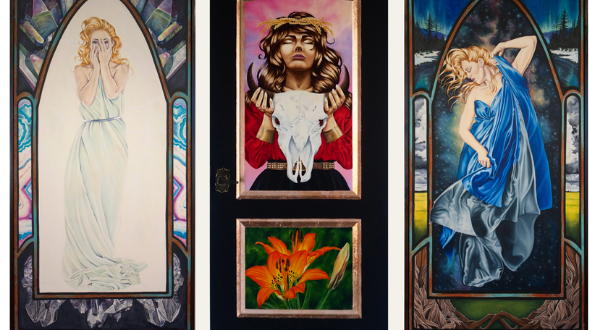 "Art for me, is how I cope with feelings and a way for myself to communicate with others. We are all living through uncertainty and anxious times, I feel I can help people move through those feelings (even if it is just by looking at something beautiful)." said Madison. The smell of spring gives her a more creative drive, while during winters she creates lush greenery and floral paintings to combat the ruggedness of prairie winters.
Using her SaskTel Wireless device, Madison is able to showcase her incredible work in real time with gorgeous timelapses of her creative process uploaded to her Instagram. She describes herself as a hopeful person, noting "you can't waste your time being upset and focusing on all the negative. You have to look at the little things and find joy, such as how fluffy the sparrows get when it's cold, the tiny buds coming forth on the trees, the songs the chickadees sing. There's so much to appreciate."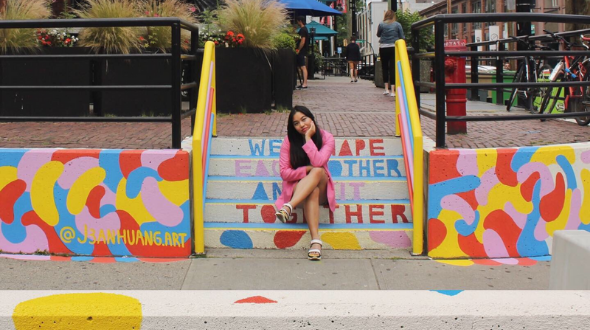 Jean Huang (@j3anhuang.art)
Jean Huang comes from a generation of artists. When she was little, she remembers trying to paint on anything she could get her hands on: the walls of her bedroom right down to all the rocks in her backyard. Her mom often joked that they didn't have enough blank walls in their house because every inch was covered in paintings.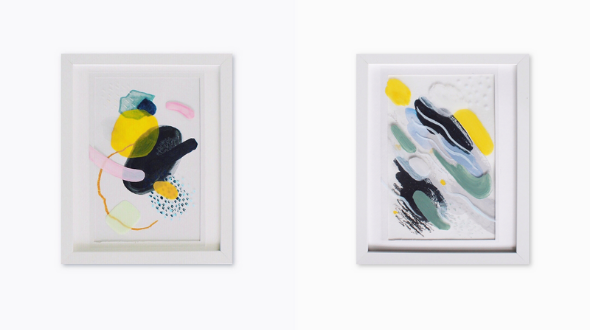 Prior to the pandemic, Jean gathered most of her inspiration from spending time in nature. However, in the same way that the pandemic forced us to spend more time indoors than outdoors, her source of inspiration also shifted to being more internal and introspective. She noticed that uncertainty was a universally shared feeling during the pandemic that often was interpreted as being negative. Since uncertainty is such an overwhelming feeling, she found it was best to represent it in an abstract manner—which ultimately propelled her in the direction of abstract art and inspired her Time Capsule collection.
Jean is inspired by the ability art has to change the feeling of a space, challenge the way we think, and create a sense of community. Her family's SaskTel Internet plan allows her to stay in touch, while connecting with potential subjects for her Time Capsule collection via her Instagram.

Art has a vast history of having an important role during difficult times. Many of us when feeling down turn to comforting music, binge-worthy TV series or begin creating ourselves. While stuck inside our homes, we often turn to artists of various mediums to help us create a space that helps us feel at ease. Although we may be feeling more disconnected than ever, the connection to our favourite artists, TV shows, music and comfort movies has never been easier to access, and with SaskTel infiNet - you'll be connected and at ease faster than ever.