That's just what Regina-based DIYer Breanne (Bre) Walkeden did. Growing up, she learned the basics of operating a hammer and repainting a room. Bigger projects soon followed like renovating cabinets, upgrading backsplash, and landscaping the yard – just to name a few. "Why pay someone when you can do it yourself?" Bre recalls her dad saying.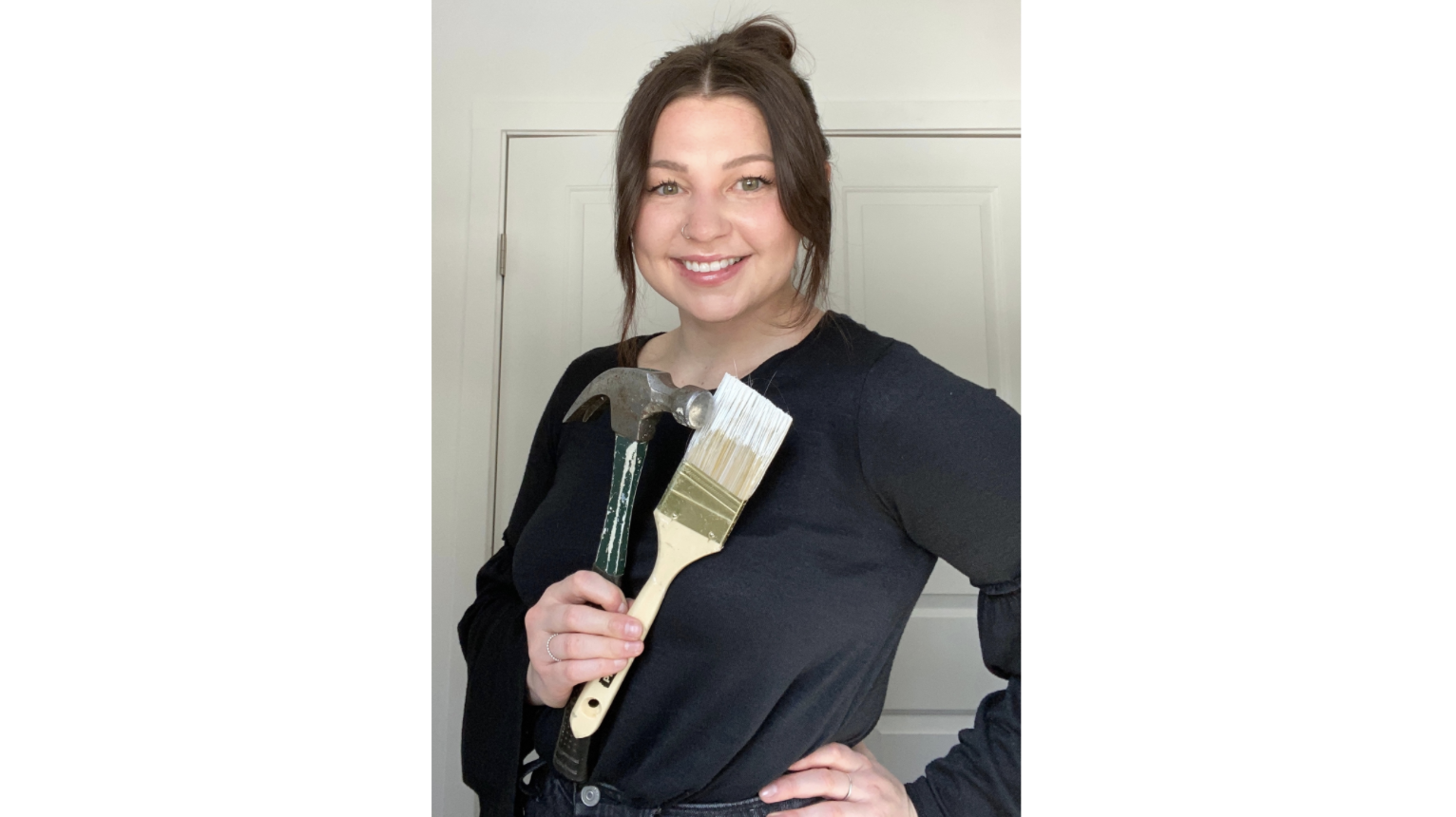 As a self-taught DIYer, Bre always wanted to be a homeowner and create a space that was perfect for her. Her creativity took flight shortly after purchasing her first fixer upper in 2019. Finally, she had the opportunity to start pursuing many long-awaited projects, quickly learning how much elbow grease and creative budgeting it would take to get her home looking exactly how she wanted.

Gaining many valuable skills and so much knowledge, it only made sense to share with others on their own DIY journeys, so Bre started an Instagram page (@homewith.bre) for friends and family who wanted to join along. This side hustle account quickly grew with nearly 1,000 followers, becoming a great local source for tips and tricks on all things do-it-yourself.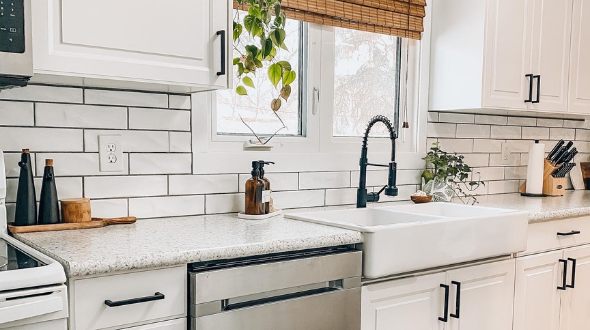 The popularity of the page comes as no surprise considering that, with the extra time spent in our homes lately, many of us have taken an interest in putting a valued effort into creating a space we love.

On weekends and evenings, Bre began expanding her tool collection and passionately started small, medium, and large projects around her home – documenting along the way. Bre noted that much of the ease of working on projects at home was due to super-fast internet speeds. YouTube became her primary teacher. And when all else failed – dad was just a phone call away.

Here are some nuggets of wisdom from Bre on how to become a fearless DIYer:
1. Get Inspired
Whether you're watching Chip and Jo on HGTV via maxTV Stream or following like-minded Instagram accounts and blogs, make sure to always be searching out things that inspire you to find your own personal style. You'll want to create a space that YOU love and want to spend time enjoying. Bre loves a good mix of Scandinavian, Bohemian, and Urban Modern décor. You'll find her home full of wicker, bright whites, and tons of plants.

Some of her favourite DIY inspirations are:
@cloe.thomson
@angelarosehome
@modernly_you
@ourbarnesyard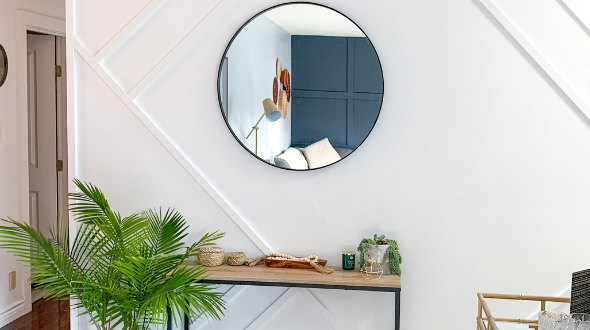 2. Build Your Tool Kit
This is key for any home project. Start collecting a stockpile of tools that you will need for smaller projects. Bigger, more expensive tools can often be rented or borrowed. Here is a great Home Tool Kit that you can snag from Amazon. Some of Bre's favourite items in her starter tool kit are her nail gun (this one works well) and her handheld miter saw (we recommend this option from Home Depot).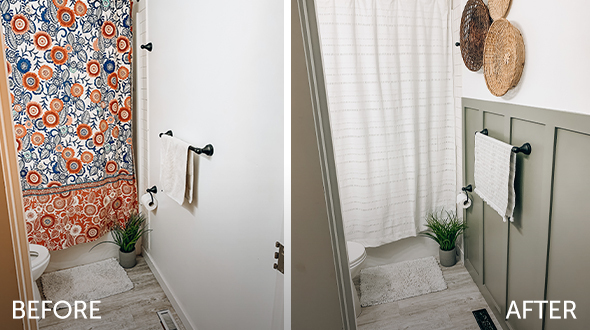 3. Budget Extra Time
You know how on any HGTV half-hour episode, magic just seems to happen? The gutted fixer upper is suddenly transformed into a picturesque French country-style mansion… Well, what you're not seeing are the countless failed projects, delays due to backordered material, and the family living in a rented RV for five months. Reality TV does not show it all. Bre recommends estimating any job to take longer than you might think. Budget your time accordingly and recognize that things might not always go as planned, and that's okay.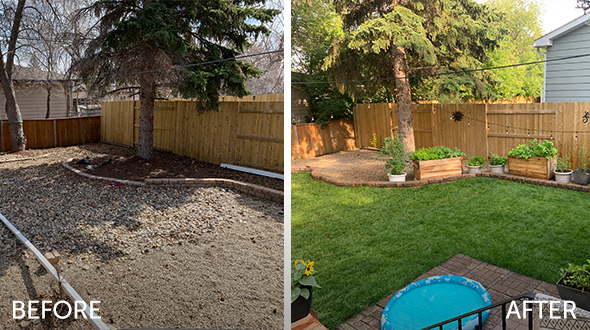 4. Just Do It
"Take risks and go for it," says Bre. For some projects, the best way to do it is to dive right in. You could spend countless hours researching the best solutions and possible outcomes, but trial and error is all part of the fun. Plus, you'll learn a lot along the way.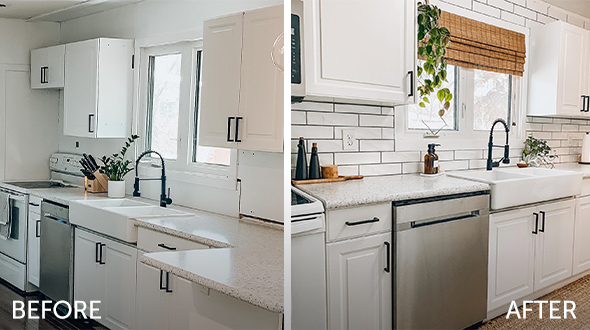 5. Get By With a Little Help from Your Friends
Accept the extra helping hands. Doing it yourself doesn't always mean by yourself. Inviting your friends and family to help can be a fun way to spend time together, all while crushing out a rewarding project. Payment can be made in pizza and snacks.

Bre hopes to inspire others to get creative and try out new things for themselves. With a little hard work and some time, DIY can be fun and incredibly rewarding. Her next projects include repainting the outside of her house and building a fence for her dog, Joey. Follow along as she continues to make her house into a home right here on the prairies and reach out with any questions you might have about your next DIY project.

If you've got other great tips and tricks on home renovations (big or small), we would love to hear them! Drop them in the comments below.